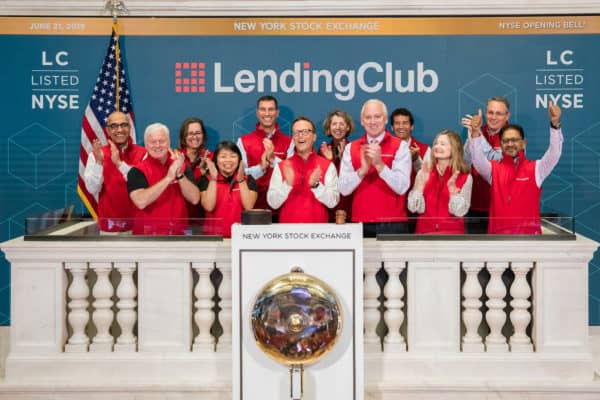 The largest provider of personal online loans in the US, LendingClub (NYSE: LC), got to ring the bell at the New York Stock Exchange today. The event was to celebrate the marketplace lending platform's 3 millionth borrower. To date, LendingClub has originated over $50 billion in loans since launch about twelve years ago.
LendingClub recognized "Alice K.," who took out a $40,000 loan for debt consolidation. Alice, an army veteran and law enforcement officer in New York, had her loan paid back in full by LendingClub.
Alice was understandably thrilled by the fact that LendingClub covered her debt.
LendingCub said that personal loans are the fastest growing category in consumer finance.
"Our data show that LendingClub is one of the market leaders in new balances originated over the past 10 years," said Liz Pagel, Senior VP and Consumer Lending business leader at TransUnion.
LendingClub CEO Scott Sanborn said that every day 40,000 people come to LendingClub to eliminate high-interest rate credit card debt.
"We're able to deliver this value to our customers at an accelerating rate. It took us 8 years to reach our first million borrowers, 2 years to reach our second million and little more than a year to reach our third million," said Sanborn.
Sponsored Links by DQ Promote