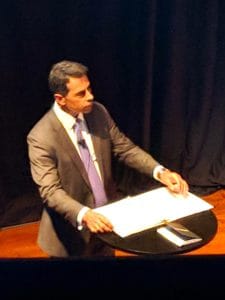 FinCEN Director Kenneth A. Blanco told an audience at the  NYU Law Program on Corporate Compliance and Enforcement earlier this month that his agency is receiving 1500 reports of suspicious transactions involving cryptocurrencies per month- 500 more than it receives regarding regular transactions.
Blanco has been the director of the Department of the Treasury's Financial Crimes Enforcement Network (FinCEN) since November 2017.
Prior to this, he was Acting Assistant Attorney General for the Criminal Division of the United States Department of Justice (DOJ).
Blanco described in some detail the system used by FinCEN banks to investigate potentially suspicious transactions:
"Every day, FinCEN takes the Suspicious Activity Reports, or SARs, filed by financial institutions, and we run them through automated business rules to identify reports that merit further review by our analysts. This process generates around 50 matches a day, more than 1,000 matches each month. Of these matches, the highest priority findings are disseminated to our law enforcement and regulatory partners in what we call a Flash report. These Flash reports enable law enforcement agencies, and others, to identify, track, and disrupt the activities of potential terrorist actors. It is incredibly valuable information that helps keep us all safe."
Blanco said FinCEN has seen, "a substantial increase in virtual currency SAR filings over the past few years and now receive more than 1,500 SARs per month describing suspicious activity involving virtual currency."
He said the increased number of reports is resulting from the financial services sector,"developing new techniques for identifying suspicious activity in virtual currency transactions, demonstrating to us what is possible and giving us unique insight into certain financial crimes."
He said, "Innovation in financial services is a great thing, from ATMs and online banking to more, recent automated services and mobile payment applications," but said that innovation must be "responsible."
He said industry must be mindful of the potential misuse of new financial technologies:
"Importantly, we must remember that as industry evolves and adopts these new technologies, financial crime evolves right along with it, or indeed sometimes because of it, creating opportunities for criminals, terrorists, and bad actors."
He said FinCEN recognized the risks posed by cryptocurrencies remarkably early:
"That is why I am proud that FinCEN was the first government agency to issue regulations, which we did back in 2011 — eons ago in this field — and to provide guidance covering virtual currency, which we did as early as 2013."
He added that guidance must also evolve and be ongoing:
"But given the rapid evolution in this field, we must continue to make sure institutions understand their reporting and other obligations…With this in mind, just last month, FinCEN issued updated guidance to remind entities subject to the Bank Secrecy Act (BSA) how our regulations apply to convertible virtual currencies (CVC)…(and how) they should be on the lookout for with respect to CVC."
Institutions failing to uphold standards risk enforcement action, Blanco stated. "While we work hard to help financial institutions understand and comply with their regulatory obligations, we will not hesitate to hold those accountable when they fail to do so."
Blanco also named a number of initiatives designed to "upgrade and modernize the AML/CFT system," including, "revamp(ing) and re-energiz(ing) the Bank Secrecy Act Advisory Group (BSAAG) composed of representatives of Federal law enforcement and regulatory agencies, State government agencies, self-regulatory organizations, trade associations, and individual financial institutions that meet twice each year to discuss regulatory expectations, trends in illicit finance, and opportunities to foster AML/CFT innovation."
Blanco concluded by referring to the human costs of unchecked criminal finance:
"It is important to the lives of millions of people, the innocent and the most vulnerable; victims or potential victims of crime. It is important to the elderly who would lose their life savings to a fraud scheme or cybercrime. It is important to the child who is deprived of food or medical attention because a kleptocrat or other bad actor has siphoned off the money that was to be used for that purpose. It is important to the loved one of a victim who was killed by an act of terror, or a parent who has lost their child to an opioid addiction, or an orphan child who lost a parent to the same."
He called the integrity of the financial system "a national security issue," and said banks and money transmitters should understand their power:
"One of the most effective ways to deter criminals and bad actors and to stem the harms that flow from their actions…is to follow the money… In many instances, (financial institutions) they are the first line of defense."