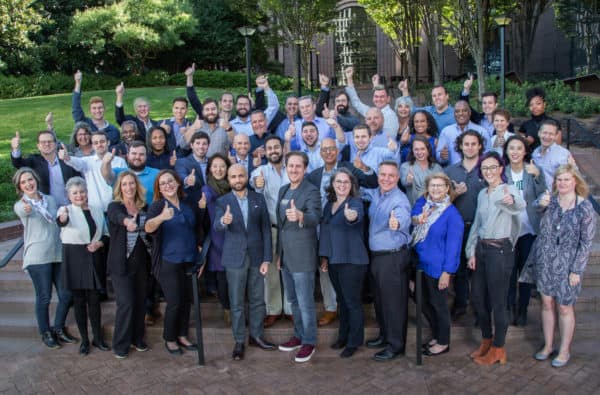 Groundfloor, an investing and lending platform for real estate investment loans, has closed on a $3 million public offering raising equity capital from 1580 new and existing investors. To date, Groundfloor has now raised $18.3 million in growth capital and 20% of its shares are held by the public (3,160 outside shareholders).
Simultaneously, Groundfloor is reporting solid Q2 results as revenue doubled versus the same period year prior.
Groundfloor adds that it remains the only company qualified by the Securities & Exchange Commission (SEC) to offer direct real estate-based debt investments to non-accredited investors and accredited investors alike. Groundfloor provides real estate entrepreneurs access to capital while enabling private investors to participate in the loans for as low as $10. Investors in 30 different US states may participate.
In a release, Groundfloor co-founder and CEO Brian Dally said their customers are showing the world how private capital markets work in practical terms:
"We're seeing strong growth in every metric, from loan applications to the growing base of investors who want to take advantage of our high-yield, short-term investments for as little as $10. And unlike the vast majority of growth-stage startups, we're proud that the capital fueling our growth right now is coming from our customers, not Sand Hill Road," Dally stated.
Operational metrics for the 2nd quarter include:
139%year-over-year increase in non-GAAP revenue, to $1.6 million for the second quarter and $2.6 million for the first half of 2019
160% year-over-year increase in loans closed, bringing the company's total loans originated to more than 1,000
$22.4MM in retail investment volume
$13.2 MM in principal and interest repaid to investors, who realized an average return of 10.54% net of losses
65,000 registered users
Crowdfund Insider spoke with Dally to learn more about the most recent funding round and the operations of the platform.
Dally said that investors participated in the most recent offering at $15/share and a pre-money valuation of about $54 million.
"We're extremely proud that 20 percent of the company is now owned by 3,160 individual investors," said Dally.
He explained that they are currently not focused on any exit opportunities and they are not setting any expectations for one:
"We're on a mission to open private capital markets to the masses, at scale, and will continue developing the company to ensure we maximize the considerable value that will be created by fulfilling that mission," he stated.
Dally said they have now funded and sold more than $150 million in real estate investor loans.
"Growth is accelerating, but without compromising credit quality. The team at Groundfloor – from investor relations to loan originations and asset management – is performing at the top of its game!"
Dally added that they are hiring for positions across the company to help manage the growth and continue scaling.
Groundfloor leverages the Reg A+ crowdfunding exemption to facilitate securities offerings. Dally, a proponent of the exemption said he wished Tier II of Reg A+ would be raised beyond the $50 million cap, noting that his co-founder, Nick Bhargava advocated raising the limit to $75 million on the pages of Crowdfund Insider last fall.
Dally said that soon Groundfloor will publish an update on their semi-annual diversification analysis that lays out all the data regarding returns and defaults.
"Historically since we started five years ago, our investors have consistently earned well over 10% on average, with loss rates that are typically well below 0.50%. Most people see that as an amazing risk-adjusted return, especially considering the repayment interval which is typically just 8 to 9 months. Our $10 minimum investment ensures everyone can get the benefits of diversification no matter the size of their portfolio."
Dally noted that often they are asked about defaults and their default rate.
"By itself, the metric doesn't actually mean much," added Dally. "Our asset managers work proactively to minimize losses and maximize returns. We frequently declare default for strategic reasons, to increase the likelihood and decrease the timeframe of repayment or recovery. That technically increases the vanity metric of "default rate" — but also tends to increase the more important speed and extent of principal recovery. We typically declare default on approximately 15% of our loans, see less than 5% repay more than 90 days late, and have experienced a loss of principal on less than 1%."
Groundfloor largely operates in the Fix & Flip sector. He said they are currently offering three types of LROs [Lease Rent Option] and are always looking for new products.
The three products are described as follows:
Renovation loans are Groundfloor's bread and butter offering. We directly originate these "fix-and-flip" loans and then offer them to investors to back. This means we take the initial application, order background and credit checks, order and review appraisals from our approved providers and analyze the borrower's renovation plan to arrive at an assessment of the project's likelihood for success. When we're satisfied, we pre-fund the loan with our own capital so work can get underway while we next clear the investment through a regulatory disclosure review process conducted by the U.S. Securities & Exchange Commission. We manage draws against the loan balance and monitor progress during the project. Groundfloor investors receive their payout back into their account once the renovation is complete and the home is sold.
BRRR (Buy, Renovate, Rent, Refinance) loans are designed for borrowers interested in rehabbing a property to purchase, rent, and then refinance. The lifecycle of a BRRR Loan is much the same as our regular fix-and-flip loan offering, with one main difference: the length of the loan term. Whereas our fix-and-flip loans tend to have a short loan term (generally 12 months), our BRRR Loan terms can stretch to two years or more. Many people find rental properties to pose less risk and greater surety of cashflow and liquidity than renovation loans.
In order to create investment opportunities in a loan with such a lifespan, Groundfloor structures the loans with multiple extension options to provide borrowers and investors alike with greater flexibility. For example, Groundfloor can break up a given BRRR Loan into several short-term LROs, usually of six months. Investors are able to invest in and receive a payout over this shorter period, which increases their liquidity. Groundfloor uses its own bridge financing to repay investors upon the maturity of the LROs while we offer the next series of LROs on the same underlying loan. Investors can decide to reinvest into the next phase of the BRRR Loan, or take the payout and invest in another loan altogether.
Given the current market shift into longer-term rentals, we are also experimenting with even longer-term loans (3 and 5 years). We're planning to test a few of these types of loans with our investors in Q3 of this year.
New Construction loans fund the purchase of a construction lot or draws as the construction projects progress. Our new construction loans are slightly different from our renovation loans. Borrowers must have new construction experience to be eligible, and they are classified into tiers based upon their experience. The loans fund different percentages of the construction based upon the tier in which the borrower falls. In general, new construction poses a different type of market risk for the investor compared to the execution risk carried by renovation loans.
Once a loan is approved, the borrower is able to access the full amount of the loan in a series of draws. Interest accrues on the loan as it is used. As with our traditional fix-and-flip loans, the borrower may choose to defer monthly payments in favor of a balloon payment at the end of the loan's life.

The investor has a slightly different experience as well. Rather than investing in the loan as a whole, investors can choose to invest in a specific draw of the new construction loan. All investments in a particular new construction loan will yield the same interest rate across all draws.

Have a crowdfunding offering you'd like to share? Submit an offering for consideration using our Submit a Tip form and we may share it on our site!

Sponsored Links by DQ Promote