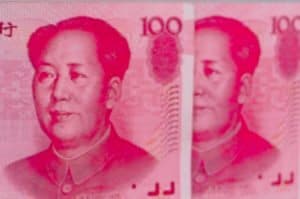 Bitcoin is moving higher, once again, as the trade war between the US and China escalates.
Yesterday, the Yuan dropped below 7 to the dollar with the People's Bank of China (PBOC) blaming the decline "to unilateral trade protectionism, as well as expectations of more tariffs on China".
The PBOC said they have "the experience, confidence and ability to keep the yuan exchange rate basically stable at a reasonable equilibrium level," according to a report in SCMP.
Of course, it is unknown as to what the equilibrium level is expected to be. The retaliatory move by China encouraged President Trump to quicly label China a currency manipulator.
Meanwhile, Bitcoin increased to over $11,700. Some of this increase may be Yuan holders moving money to Bitcoin to hedge the deprecation of yuan. While it is explicitly stated that crypto trading is prohibited in China, a robust OTC market has evolved and Bitcoin trading remains active in China.
Jeremy Allaire, CEO of Circle – a crypto ecosystem, joined CNBC this AM to provide his insight on the "surge" in Bitcoin price.
Allaire said that crypto and Bitcoin specifically is participating in these global macro forces. The volatility of traditional markets drives interest in a "non-sovereign" store of value such as Bitcoin. "It looks like it will continue," said Allaire.
Allaire notes there are many exchanges with their legal venue outside of China but still operating in places like Beijing and Hong Kong. China also remains a major crypto mining center.
"There is a lot of national Chinese participation in this market," affirmed Allaire.
He also believes there has been a political softening in Chinese policy towards crypto. Indications such as the Bank of China starting to market information on Bitcoin and a recent court case declaring Bitcoin as property helpt to legitimize the digital currency.
As stocks tumble, Bitcoin starts to look better due to is non-correlation.
So can we expect more appreciation in the price of Bitcoin as the trade war escalates? It is starting to look that way.
---
Circle CEO Jeremy Allaire explains the overnight surge in Bitcoin from CNBC.

Sponsored Links by DQ Promote