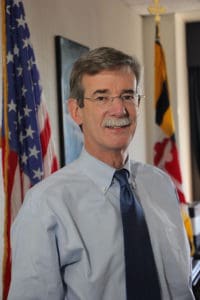 Maryland Attorney General Brian E. Frosh announced this week that the Maryland Securities Division has joined "Operation Cryptosweep," a coordinated crackdown on fraudulent cryptocurrency projects involving least 40 North American state and provincial regulators.
Frosh notes that an environment of sometimes surging interest in cryptocurrencies can result in increase risk for investors:
"Recent headlines touting the possibility of new cryptocurrency products (such as one backed by Facebook), and the surging value of some cryptocurrencies (such as Bitcoin) with a sharp increase in market capitalization for all cryptocurrencies, create an environment that can attract promoters of illegal and fraudulent securities schemes. Investors and con artists alike have turned to cryptocurrency-related investment products looking for quick profits. Investors should be wary of any investment that promises quick profits with low risk."
Operation Cryptosweep (OC) began May 1, 2018. By July of that year, the operation had already resulted in 70 enforcement actions.
The sweep is being coordinated by the North American Securities Administrators Association (NASAA), the group that represents state and provincial securities regulators.
The press release announcing Maryland's involvement in OC says the Maryland Securities Division has embarked on its own enforcement action against a Bitcoin trading platform, "which led its investors to believe they could earn as much as 150% through passive investments, and a Maryland resident who sold investments in the trading platform."
Beware promises of unlikely returns, Frosh warns:
"Quick returns of 150% are as rare as Bigfoot. Make sure to do independent research the product before you invest. Be aware of the risks, and contact the Maryland Securities Division with any concerns before parting with your hard-earned money."
As part of its efforts to educate investors, the NASAA has produced an animated video that "walks viewers through complex (cryptocurrency) investment topic(s) in easy-to-understand language."
According to the Maryland Securities Division, the risks involved in investing in cryptocurrency include:
"Volatility: Cryptocurrency markets are highly volatile, making them unsuitable for most investors looking to meet long-term savings or retirement goals."
"No recourse: Cryptocurrency and many crypto-related investments are subject to little regulatory oversight, and there may be no recourse should the cryptocurrency disappear due to fraud or a cybersecurity breach."
"Untraceab(slitty): Cryptocurrency or crypto-related investments only exist on the Internet. Issuers can be located anywhere in the world, so it may be impossible to trace and recover lost funds through the courts."
Sponsored Links by DQ Promote