Accenture (NYSE: ACN) announced on Tuesday it has acquired Fairway Technologies, a U.S.-based engineering services provider. Accenture reported the acquisition will further power the Accenture Product and Platform Engineering Services practice, which helps clients manage and innovate software-based platforms. This news comes just one week after Accenture acquired global financial institutions advisor and consulting partner, Parker Fitzgerald.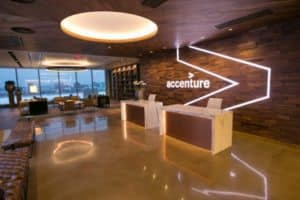 While sharing more details about the acquisition, Ram Ramalingam, Managing Director of Accenture's Product and Platform Engineering Services practice, stated:
"This acquisition will help Accenture continue to make next generation platform technology a reality for our clients. We turn innovative ideas into business differentiation, building products and platforms that create the right level of engagement and personalization with customers and ecosystem partners to help organizations thrive in the digital era."
Brett Humphrey, CEO, Fairway Technologies, went on to add:
"Joining Accenture will enable us to continue our strategy of delivering premium engineering services, now on a broader scale. With digital platforms becoming a foundation for organizations to create new products and services, Accenture Product and Platform Engineering Services practice and Fairway Technologies will work together to help companies disrupt and build competitive advantage in the platform economy."
Terms of the transaction were not disclosed.