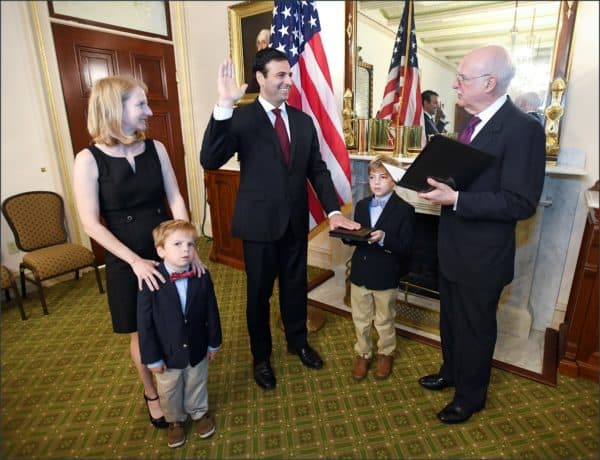 The Commodity Futures and Trading Commission's newly-appointed chief, Heath Tarbert, appears to be carrying forward the pro-crypto/pro-blockchain approach established at the CFTC by his predecessor, J. Christopher Giancarlo.
Tarbert told reporters at CNBC in a recent interview that he has a favorable opinion of "blockchain" (self-settling ledger) technology, and does not want to stifle a "promising" innovation:
"(We) very much want proper rules and regulations. And what I would say as…a larger point is I believe the blockchain technology behind Bitcoin and other digital assets has a lot of promise and I would hate to see a country such as China or another strategic competitor advance farther along than us because we don't have the proper regulatory framework."
Though cryptocurrencies have been variously defined by other US government agencies, the CFTC defines "digital assets" such as cryptocurrencies (Bitcoin et al) as commodities and regulates the trading of Bitcoin futures.
Tarbert acknowledged that current demand for Bitcoin is not incredible but said his agency sees growth:
"It's definitely that the demand (for cryptocurrencies) is far below (what) we see for other commodity classes. So it's still small at this point but I think we see it growing."
Bakkt, a division of the Intercontinental Exchange (ICE), the company that runs the New York Stock Exchange (NYSE), launched physically-backed Bitcoin futures trading September 22nd.
Trading at Bakkt is so far modest, however, and researchers have noted falling demand for crypto across the board, at least on mainstream exchanges, in recent weeks.
News of low initial volumes at Bakkt is particularly relevant because late 2017's bull run was partially fuelled by pro-crypto pundits' claims that institutions were waiting with baited breath on the sidelines of crypto for a green light from regulators that would allow them to pour money (retirement funds, etc.) into cryptocurrency and crypto-token investing.
That green light has not yet come. In fact, things may have gotten worse as global regulators have recently stepped up their demands on the sector.
Even members of the Trump administration, including President Trump himself, have lately spoken out against crypto.
In July, Trump tweeted that he's "not a fan" of Bitcoin, and said cryptocurrencies are, "not money."
Tarbert's predecessor, Giancarlo, meanwhile, has joined the Chamber of Digital Commerce's Board of Advisors following the expiry of his five-year term as head of the CFTC.
The Chamber of Digital Commerce (CDC) bills itself as, "the world's first and largest trade organization for the blockchain and digital asset community." It is headquartered in Washington, DC.
Watch the Video below.
---
CFTC chairman on NYSE launch of Bitcoin futures market on exchange from CNBC.
---
Sponsored Links by DQ Promote