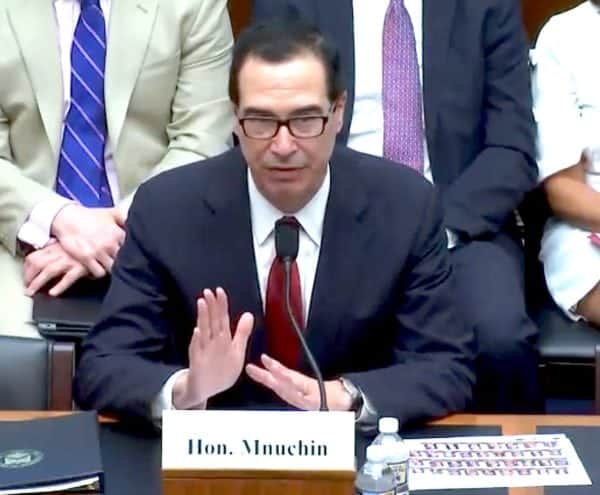 US Treasury Secretary Steven Mnuchin called a surprise press conference this afternoon in Washington DC to state that Facebook and all other providers of "digital financial services" must observe the same financial integrity regimes as banks.
Mnuchin called illicit use of cryptocurrencies "a national security issue" and said the Treasury has been holding ongoing meetings with multiple agencies, private firms and international organizations to address, "the serious concerns the Treasury has regarding the growing misuse of cryptocurrencies by money launderers, terrorist financiers and other bad players."
The press conference was convened as lawmakers across the world rush to address the implications of Libra, a proposed currency network Facebook wants to implement across Messenger and WhatsApp and the social media giant's 2.3 billion users.
Some regulators have expressed concern that the Libra network could upset global financial stability and illicit finance controls by moving banking and currency management functions into the hands of a private, transnational corporation with accountability problems.
Because Libra could have so many users so quickly and plans to maintain its own asset-backed reserves, some believe the currency could supplant the US dollar or tip the balance of currencies now held in reserve by the World Bank.
"Treasury takes very seriously the role of the US dollar as the world's reserve currency," said Mnuchin, "and will continue our effort to protect our country and secure the US and global financial systems."
Regulators also worry that privately controlled crypto networks have been a boon to criminals. According to Mnuchin:
"The Treasury Department has expressed very serious concerns that Libra could be misused…Cryptocurrencies such as Bitcoin have been exploited to support billions of dollars of illicit activity, like cybercrime, tax evasion, extortion, ransomware, illicit drugs, human trafficking…This is indeed a national security issue."
Mnuchin said the Treasury Department, "…has been very clear to Facebook, Bitcoin users and other providers of digital financial services that they must implement…the same AML/CFT safeguards as traditional financial institutions."
He said the industry now knows that, "Money transmitters of cryptocurrency must comply with relevant Bank Secrecy Act (BSA) obligations… and register with FinCEN…(which) has collected more than 300 million BSA reports in the last 11 years."
Mnuchin reiterated some of the remarks President Trump made last week regarding Bitcoin:
"As the President has said, Bitcoin is highly volatile and based on thin air. We are concerned about the speculative nature of Bitcoin and will make sure that the US financial system is protected from fraud."
When asked about whether the Treasury and US government is supporting innovators in finance, Mnuchin said:
"To be clear the US welcomes responsible innovation including new technologies that may improve the efficiency of financial systems and expand access to financial services. That being said…our overall goal is to maintain the integrity of our financial system and protect it from abuse."
"This is intended to be a level playing field," Mnuchin added later.
"Whether you're MoneyGram or a bank, you're an online or a PayPal…lots of people use electronic payment systems in (US) dollars very effectively and we'll continue to support those activities."
Mnuchin may also have hinted that further crackdowns are coming against illicit actors using cryptocurrencies:
"There's a lot of illicit activity that we'll be shutting down for people who are using cryptocurrencies for bad purposes."
When asked about the popularity of Bitcoin among white nationalist groups, Mnuchin said:
"I'm not gonna comment on any specific group…but will tell you that FinCEN has multiple investigations going on…There will be more enforcement. We're gonna beef up our operations for regulatory oversight."
He also warned that anyone using cryptocurrencies for illicit purposes, "You're gonna get caught."
Mnuchin declined to comment about whether the price of bitcoin has lately been driven up by fraud, stating that he was simply there to address regulation.
Mnuchin said he is by no means comfortable with Libra at this time:
"I didn't say I'm comfortable with them launching a cryptocurrency…I'm not comfortable today. The others have a lot of work to do to get us comfortable…"(Facebook) is going to have to convince us of very high standards before they will have access to the US financial system."
…but declined to pour ice water on Facebook's prospects:
"To the extent that Facebook can do this correctly and can have a payment system, you know, correctly, with proper AML, that's fine. They've got a lot of work to do to convince us to get to that place."
Libra CEO David Marcus and other Facebook reps will appear this week at hearings in both the US House of Representatives and the Senate.
Members of the House Financial Services Committee also sent a letter to Facebook in early July asking the company to impose a moratorium on the implementation of Libra, stating:
"It appears that these products may lend themselves to an entirely new global financial system that is based out of Switzerland and intended to rival U.S. monetary policy and the dollar. This raises serious privacy, trading, national security, and monetary policy concerns for not only Facebook's over 2 billion users, but also for investors, consumers, and the broader global economy."