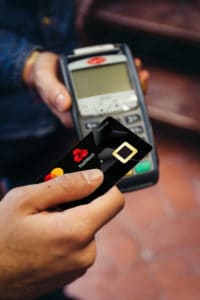 NatWest reports that the first biometric fingerprint credit cards are entering circulation today. According to the bank, 150 customers have been selected to take part in a three-month national pilot program. The credit card pilot follows an early trial of a debit card earlier in 2019.
NatWest says it is working closely with Mastercard and digital security company Gemalto to bring the service to customers in the UK.
NatWest claims this is the first ever biometric credit card to be issued. The biometric credit cards will offer contactless payments using fingerprint verification for transactions up to £100, an increase on the current £30 limit.
For point of sales, there are no hardware changes needed to accept biometric cards, so cardholders can use them at existing contactless and Chip and PIN terminals. The card itself is powered through the card terminal and when a customer presents a card, a green light on the card indicates that the fingerprint has been matched successfully.
Users of the card may add their fingerprint at home with a "plastic sleeve" included with the card. Once a fingerprint is accepted it cannot be changed. The fingerprint information is not stored anywhere else except on the card.
Georgina Bulkeley, Director of Innovation at NatWest said that following the successful pilot of their biometric debit card NatWest is looking to test the technology further with credit cards.
"This is the biggest development in card technology in recent years and not having to enter a PIN not only increases security but makes it easier for our customers when paying for goods or services."
Howard Berg, Senior Vice president, UK Ireland and Switzerland of Gemalto, stated:
"Biometric have a big role in the future of payments and we're pleased that more NatWest customers will be the first to try out this simple, convenient and secure way to pay. Authenticating payments with a fingerprint isn't just easy – it boosts security and opens the door to larger contactless payments. We'll work very closely with NatWest as the trial progresses to address feedback from users and make sure they're getting the best experience possible."
Smartphones, such as the Apple iPhone, have long used a "face-ID" or fingerprint to authenticate users of devices. This authentication process has been ported over to digital wallets incorporated into these smartphones thus negating the need to carry a physical card.

Sponsored Links by DQ Promote