The Fundament Group, a Germany based security token issuance platform, has announced a partnership with Tezos to develop regulated digital securities. Fundament also revealed that the Tezos Foundation has invested in the Fintech startup.
Fundament's vision is to provide institutional-grade financial products for all investors – not just big money. Fundament will provide these services in a regulatory compliant manner as outlined by German and European securities law. Fundament was the first German Fintech to receive approval from Germany's regulator – BaFin, for a €250m blockchain-based real estate bond.
The digital security is Germany's first tokenized real estate offering, issued on a public blockchain with minimum investments starting at just one Euro. By incorporating blockchain, these digital assets are easily tradable and manageable. Fundament allows for self custody on digital wallets.
Switzerland based Tezos Foundation is well known for its huge initial coin offering that raised $230 million back in 2017. Tezos committed around the same time to dedicate approximately $50 million to build out its network and community.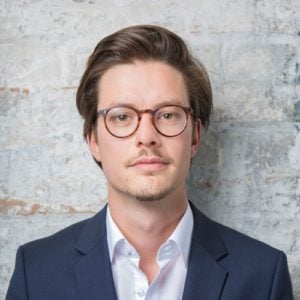 Florian Glatz, Co-Founder of Fundament Group, commented on his company's vision for the future:
"Right now, capital markets are segregated between professional and retail investors. Small investors, in particular, find it difficult to build sustainable wealth through attractive dividends and are largely restricted from investing in certain asset classes. It is our vision to break down these barriers and build a truly inclusive market for financial products on a global level, without compromising on investor protection."
Glatz, an attorney, is also the founding president of the German Blockchain Association and was involved in the founding of the European Blockchain Association.
Hubertus Thonhauser, board member of Tezos Foundation, said they look forward to working with Fundament Group to provide an end to end infrastructure for securities:
"We are aligned in our vision to challenge the current financial system and we very much look forward to a productive and fruitful partnership."
Several weeks ago, Bauwens Group, invested in the Fundament Group ostensibly with the intent of issuing digital assets backed by real estate. Details on the investment were not disclosed. Bauwens Group, a German real estate developer, reports a project development pipeline of €6.7 billion.

Sponsored Links by DQ Promote