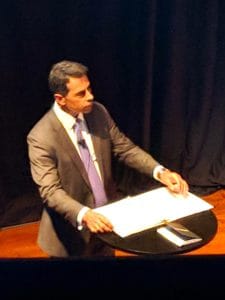 The US government will reportedly be enforcing a rule which requires companies dealing in cryptocurrencies, including digital asset wallet providers and exchanges, to share details about their clients. This, according to Kenneth Blanco, director of the Financial Crimes Enforcement Network (FinCEN).
The "travel rule" for "virtual asset service providers" or VASPs is part of requirements created by the Financial Action Task Force's (FATF) compliance guidelines issued earlier this year. The travel rule is a part of global anti-money laundering (AML) regulations that mandate that a digital currency trading platforms must verify their users' identities. The new rule requires companies to identify the senders and recipients of crypto transactions worth $3,000 or more. The personal details of the parties involved in these transfers must be sent to counterparties (if they exist).
While attending a conference hosted by blockchain analytics firm Chainalysis, Blanco stated:
"It (travel rule) applies to CVCs (convertible virtual currencies) and we expect that you will comply period. That's what our expectation is. You will comply. I don't know what the shock is. This is nothing new."
The American government's latest move has come as crypto-related crime has reached billions of dollars. Investigators throughout the world are having to deal with large money laundering hubs that have been using cryptocurrencies to engage in illicit transactions. An August 2019 report from Ciphertrace revealed that cryptocurrency-related thefts, scams, and fraudulent activities are expected to exceed $4.3 billion in 2019.
FinCEN introduced the travel rule in 1996 as part of its AML standards, which now apply to all US financial institutions. In March 2013, FinCEN announced the rule would also apply to digital currency exchanges. In May 2019, the US Treasury Department confirmed that FinCEN's guidance would be applied to cryptocurrency trading platforms.
FinCEN's announcement has come after the release of guidelines by the US Treasury led-Financial Action Task Force (FATF), an inter-governmental organization that combats money laundering and terrorist financing activities.
The FATF has asked digital asset exchanges and regulators to adhere to the travel rule. Crypto-related businesses have until June 2020 to comply with the rule.
Blanco noted:
"FinCEN…has been conducting examinations that include compliance with the funds' travel rule since 2014." 
He also mentioned that it is the most frequently cited violation when it comes to money service businesses dealing in cryptocurrencies.

When FinCEN released its new guidance in May on the travel rule, crypto industry participants were not sure whether the rule applied to their businesses.

Ciphertrace CEO Dave Jevans has previously noted that crypto industry professionals were a bit surprised when they found out that they had to comply with FinCEN 's travel rule.

Sponsored Links by DQ Promote