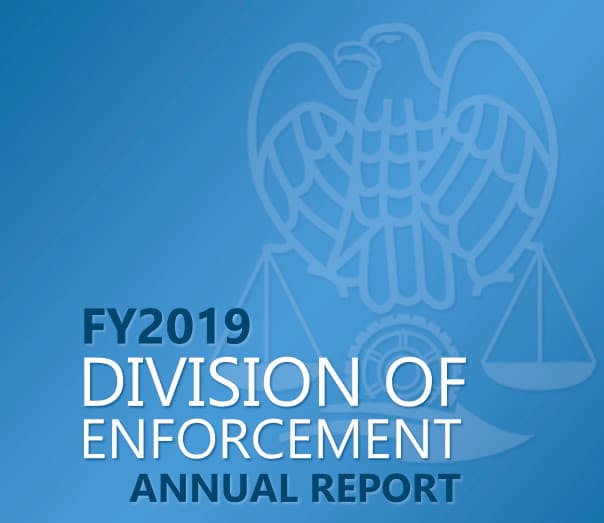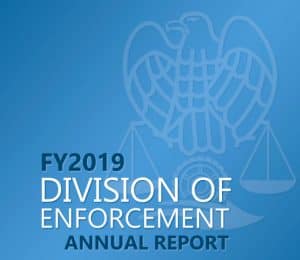 The Enforcement Division at the American Commodities Futures Trading Commission, tasked with enforcing rules governing commodities markets in the US, has released its annual report.
The CFTC defines Bitcoin and Ethereum as commodities and oversees the trading of futures derivatives of these in the US.
The report reiterates the enforcement division's priorities, which include:
Preserving market integrity

Protecting customers
Promoting individual accountability, and
Increasing coordination with criminal authorities and other regulators (as markets evolve)
The Enforcement Division reports a slight increase in the number of enforcement actions this year when compared with an average taken over the past 5 years.
As well, "In FY 2019, the Division maintained a docket of over 140 pending litigations against corporate entities and individuals that involve allegations of manipulation, spoofing, fraud, misappropriation of confidential information, illegally offering new products, including digital assets, and other violations."
CFTC enforcement actions in FY 2019 awarded more than $1.3 billion USD to harmed investors. The agency says this represents a, "marked…39% increase over the prior Fiscal Year, and stands as the fourth-highest total in the Agency's history."
As well, "In FY 2019, the CFTC filed more cases involving manipulative conduct and spoofing than any prior year but one—which was FY 2018…(and) the CFTC filed more actions in parallel with criminal authorities (16) than in any prior year."
With regards to "digital assets," the CFTC says it continues to, "aggressively prosecute misconduct involving digital assets that fit within the Act's definition of commodities."
the CFTC continues to, aggressively prosecute misconduct involving digital assets that fit within the Act's definition of commodities.
"Among other cases, the Commission charged the principal of a cryptocurrency escrow fund with a multi-million dollar Bitcoin fraud."
In that case, the CFTC accused Jon Barry Thompson of Easton, Pennsylvania, of, "knowingly or recklessly making false representations to customers in connection with the purported purchase of bitcoin worth over $7 million."
Thompson allegedly never delivered the bitcoins.
"The Commission also charged a Bitcoin trading firm and its principal with a $147 million-dollar fraud."
In that case, the CFTC filed a civil complaint against Control-Finance Limited and UK citizen Benjamin Reynolds "The Complaint charges the defendants with exploiting public enthusiasm for Bitcoin by fraudulently obtaining and misappropriating at least 22,858.822 Bitcoin—worth at least $147 million at the time—from more than 1,000 customers."
Finally, "the Commission charged a virtual currency trader with carrying out a fraudulent scheme involving Bitcoin."
In that case, the CFTC settled charges against Joseph Kim of Phoenix, Arizona.
Kim was required to pay more than $1.1 million USD in penalties for pervading, "a fraudulent Bitcoin and Litecoin scheme," worth the same amount.
During the course of the scheme, Kim allegedly, "misappropriated more than $600,000."
Kim was also ordered in early November to serve 15 months in prison by a United States District Court for the Northern District of Illinois for criminal charges stemming from the scheme.
---
ENFAnnualReport112519

---
Sponsored Links by DQ Promote