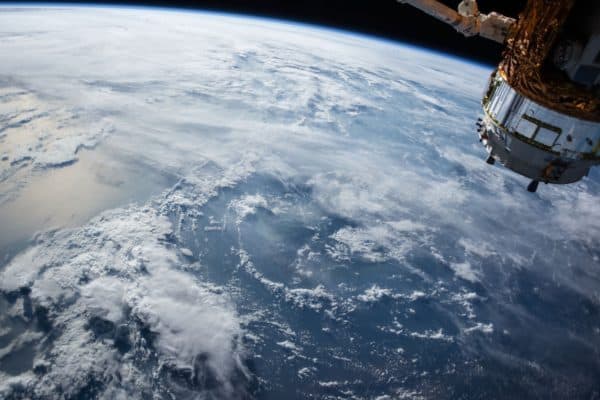 SpaceChain, a Singapore-based blockchain community platform, announced on Thursday it has sent its blockchain hardware wallet technology to the International Space Station. The company claims that its tech is considered the first technology demonstration of blockchain hardware on the space station and will be installed in Nanoracks' commercial platform.
"Once activated, the payload will demonstrate the receipt, authorization, and retransmission of blockchain transactions, creating "multisig" transactions that require multiple signatures (approvals) to complete, increasing the security of the operation. All data will be both uplinked and downlinked directly through Nanoracks' commercial platform. SpaceChain's implementation adds the remoteness and security of space infrastructure to blockchain technology to lay the foundation for a new generation of products built on its technology."
Speaking about the product launch, Zee Zheng, SpaceChain co-founder and CEO, stated:
"The third payload launch is a significant milestone not just for SpaceChain but also toward the development of the New Space Econom. The integration of space and blockchain technologies has uncovered new possibilities and opportunities and we are very excited about the prospect of working closely with financial service providers and fintech developers, IoT service providers, research institutions and space agencies in the coming months to further accelerate advancements within the ecosystem."
Jeff Garzik, SpaceChain Co-Founder and CTO, then commented:
"Blockchain is the next major disruptor in space. SpaceChain addresses security vulnerabilities for financial systems and digital assets in the growing digital economy. Through integrating technologies, new paradigms that were once beyond reach can now be created and add exciting elements in the New Space Economy."
Founded in 2017, SpaceChain reports that it is on a mission to integrate blockchain nodes on satellites to add a new "dimension" to the core framework of distributed ledgers.
"SpaceChain platform features data collection, computing, applications, and storage. SpaceChain uses satellites as its operational nodes for realizing direct on-satellite data processing and secure in-space data storage through cryptographic technologies such as quantum communications."
SpaceChain added it expects the testing of this payload to be completed by early 2020.

Sponsored Links by DQ Promote