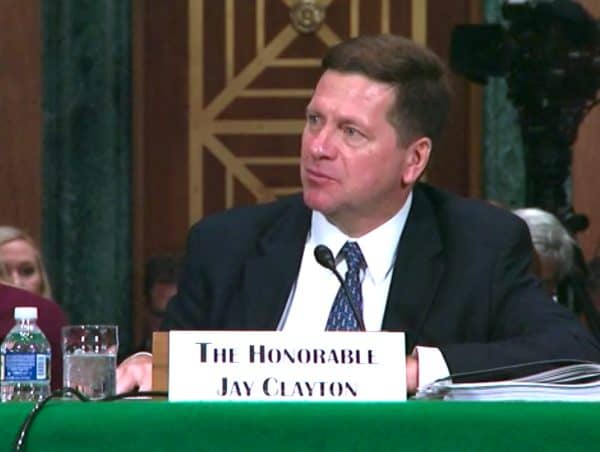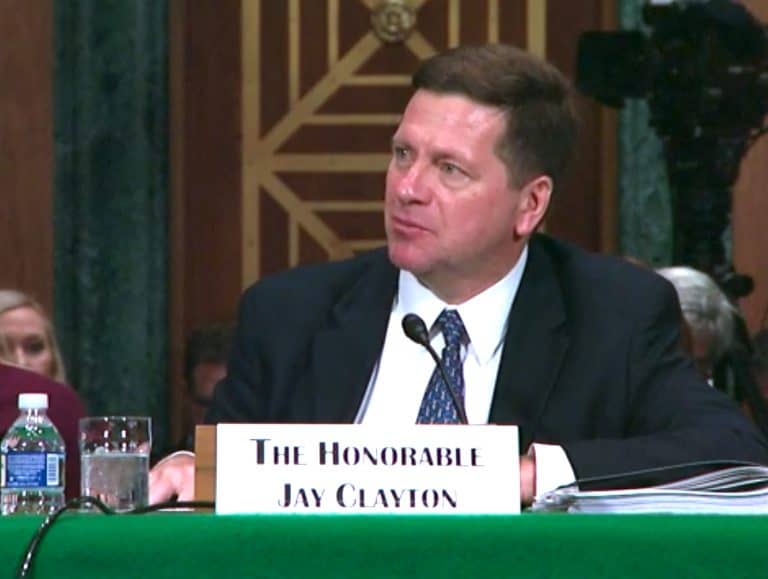 Securities and Exchange Commission (SEC) Chairman Jay Clayton spent his morning today (December 10, 2019) testifying in front of the Senate Committee on Banking, Housing, and Urban Affairs.
In prepared testimony (embedded below), Chair Clayton addressed multiple issues including those that impacting regulatory modernization as well as Fintech related items.
Clayton stated:
"I believe modernization is a particularly effective means to advance each component of our mission simultaneously. We have approached modernization by: (1) identifying aspects of our regulatory framework that are out of step with our ever-changing capital markets ecosystem; and (2) bringing those aspects back into line with market realities in a way that advances all aspects of our mission. With that perspective in mind—a perspective that moves beyond the static and often stale claims that advancing one aspect of our mission (e.g., investor protection) must come at a cost to another (e.g., capital formation)."
Referencing JOBS Act securities exemptions, Clayton said:
"Since the early 2000s, there has been a dramatic shift from companies raising growth capital in our public equity markets to raising growth capital in our private capital markets.[19] Main Street investors have very limited access to our private capital markets and, where they do have access, unlike our public capital markets, they often do not sit side-by-side with institutional investors. The JOBS Act was instrumental in slowing down this shift from public markets to private markets. Building on principles underpinning the JOBS Act, over the past two years, the SEC has expanded several of these accommodations to encourage more companies to consider entering the public capital markets without diminishing important investor protections."
Importantly, regarding the definition of an accredited investor, Clayton had this to say:
"I expect the Commission to consider staff recommendations to amend the accredited investor definition in the near future, including whether the definition should include non-wealth-based ways for individuals to qualify, and more broadly, whether the limitations on who can invest in certain exempt offerings provide an appropriate level of investor protection or pose an undue obstacle to capital formation or investor access to investment opportunities. Additionally, I believe it is our obligation to explore whether we can increase opportunities for Main Street investors in the private markets while maintaining strong and appropriate investor protections. To that end, staff is examining whether appropriately structured funds can facilitate Main Street investor access to private investments. I believe it is important to focus on solutions that provide access to investment opportunities on substantially the same terms as those that would be available to institutional investors."
Additionally, Clayton said he expects the Commission to consider the modernization of rules regarding the compensation pertaining to the issuance of private securities.
"The so-called "gig economy" has changed how companies and individuals design alternative work arrangements, and we should ensure our regulatory framework reflects changes in our marketplace, including our labor markets."
Regarding blockchain technology, or distributed ledger technology (DLT), Clayton shared a positive note on his expectations for the new tech:
"I am optimistic that developments in distributed ledger technology can help facilitate capital formation, providing promising investment opportunities for both institutional and Main Street investors. Overall, I believe we have taken a measured, yet proactive regulatory approach that both fosters innovation and capital formation while protecting our investors and our markets."
While Crowdfund Insider was not able to watch the entire hearing, there were multiple questions regarding cryptocurrencies as well as the issuance of stablecoins – IE Libra.
"It's here, we should not go around it," said Clayton.
Referencing recent news that several sanctioned initial coin offerings have failed to comply with settlements due to enforcement actions, Clayton said they try to structure these agreements so that impacted investors get as much money as possible back over time. Sometimes these settlements are in the form of payments and sometimes they just fail "because they were not good companies to begin with."
"There is a lot going on there," said Clayton. "It's complicated."
Clayton agreed that the Commission should engage with the Committee on some of these hot button issues such as non-sovereign backed cryptocurrencies
The entire proceedings are available on the Senate Banking Committee website.
---
Jay Clayton Senate Banking Committee Testimony 12-10-191

---
Sponsored Links by DQ Promote