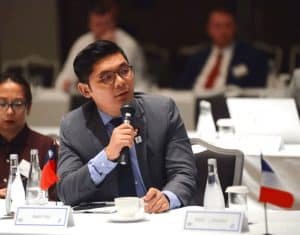 Taiwanese Congressman and crypto advocate Jason Hsu delivered a speech on AML requirements at the EmTech Investment Meeting 2020 held at Davos this week.  Hsu is also the co-founder and APAC Spokesperson for the Global Blockchain Policy Council of Legislators. Hsu has been vocal on the new rules crafted by the Financial Action Task Force (FATF) regarding the regulation of crypto-asset transactions for Virtual Asset Service Providers (VASPs).
According to a release from the International Digital Asset Exchange Association (​IDAXA​), Hsu's keynote was titled "International Anti-Money Laundering (AML) Touch Points". As part of the speech, Hsu applauded the Swiss-based ​OpenVASP initiative for "embracing the blockchain community's ethos of decentralization" while seeking FATF compliance. Reportedly, OpenVASP aims to provide an open-source, decentralized solution for VASPs to comply with the 'Travel Rule'.
The release also states that Hsu referenced a Joint Working Group for Inter-VASP Messaging Standards (JWG-IVMS) which seeks to establish a common language for FATF's required communication between VASPs.
Both initiatives are supported by IDAXA​, a group that represents VASPs globally.
Hsu was an original signatory on the Memorandum of Understanding (MoU) to establish IDAXA in June 2019 at the inaugural ​V20 Summit which was held in parallel to the G20 Leaders Summit in Osaka, Japan.
Hsu issued the following statement:
"Both OpenVASP and the JWG-IVMS are calling for contributions from the community to ensure robust outputs that are both inclusive and reflective of industry needs. There is no silver bullet to satisfy the FATF, however with community-led initiatives such as these, and overarching support from IDAXA at a global level, VASPs will be able to implement changes more efficiently and reduce the costs associated with achieving compliance by leveraging the yield of these working groups."
According to Christine Gschwend of the Crypto Valley Association (CVA), FATF compliance and decentralization need not be "mutually exclusive."

The CVA is a joint signatory of the IDAXA MoU.

Sponsored Links by DQ Promote