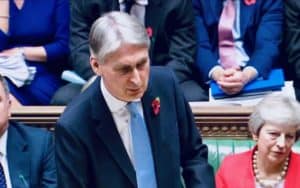 Philip Hammond, former Member of Parliament and Chancellor of the Exchequer, has reportedly joined SoftBank-backed Fintech firm OakNorth as the company continues to focus on its international expansion efforts.
Hammond will be serving as a member of OakNorth's advisory board, beginning on January 27. He will be working with Conservative grandee Francis Maude and former regulators Adair Turner and Martin Stewart.
Hammond stated:
"Fintech is one of Britain's success stories and OakNorth is a flagship of the British fintech sector. OakNorth's principal lending sector is an area I know pretty well and I'm very excited about the prospect of rolling [its technology] out with partners around the globe."
OakNorth has been valued at roughly $2.8 billion following an investment round led by the SoftBank-back Vision Fund in 2019. The company issues loans to medium-sized businesses via the UK-based OakNorth Bank. The firm also licenses its credit-decision technology to lending companies in other nations.
Rishi Khosla, CEO at OakNorth, noted that Hammond's "connectivity with finance ministers and business leaders in other countries is clearly an aspect which is highly valuable."
He also mentioned that "the UK is pretty late in the credit cycle," while adding that Hammond's economic expertise would assist the company in "making sure it builds a sustainable long-term business" to be able to handle any potential downturns in the future.
Hammond decided to leave politics before December's general election after a fall out over Brexit issues with UK prime minister Boris Johnson.
When questioned regarding what impact the UK's exit from the EU might have on OakNorth and other Fintech firms, Hammond remarked:
"We don't know yet what the post-Brexit environment will look like — that's the key challenge for 2020. The government has to deliver a working environment for British business. We need to focus on those areas where we can be global leaders and seek to grow them. That should be the government's focus."
OakNorth is notably the second firm Hammond has joined after leaving politics. He was appointed non-executive director at New York-listed packaging group Ardagh in November of last year.

Although there are now many highly valued Fintech firms operating in the UK, OakNorth is among the lucky few to have already reached profitability. In 2018, the Fintech reported a pre-tax profit of £34 million. Khosla noted that the company had "maintained very strong profitability" last year.

OakNorth's technology division, which is established as a separate firm, has been recording losses however the Fintech's management claims that the overall group is making substantial profits.

Khosla revealed that 14 banks in six different nations would be piloting or implementing the firm's credit technology.

Sponsored Links by DQ Promote