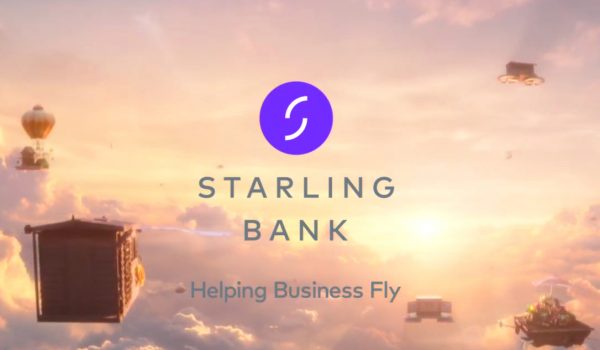 Digital bank Starling has kicked off a new advertising campaign focusing on banking services for SMEs, according to a release. The digital pitch promotes Starling Bank as supporting small businesses claiming the bank helps your business fly. Starling Bank is said to be spending "multi-millions" on the promotion. The creative work was done by Starling's new agency of record: Wonderhood Studios and media agency Bountiful Cow.
The 60-second TV spot 'Helping Business Fly' is directed by Elliot Dear through Blinkink.
Starling Bank notes that in 2018 the digital bank became the first of its kind to launch business accounts, with no monthly fees and an in-app marketplace.
Starling Bank CEO and founder Anne Boden, explained they wanted to do something different and authentic that hadn't been done before.
"When business owners see the campaign, we want them to feel inspired and courageous. To see that they can do it as well."
Aidan McClure, CCO Wonderhood Studios said that anyone who's started their own business they'll recognize that feeling of plummeting towards certain ruin before turning on a dime and soaring through the clouds.
Elliot Dear, Director Blinkink commented:
"I love shooting with miniatures. I've always been fascinated with how they achieved the special effects in Hollywood films before CG was an option, and most of my favourite movies use models and practical effects. The design and build part of a project is really enjoyable for me, and I personally love watching the skill and craft that goes into making a scale model. When it comes to the filming, I feel that there's a certain quality to the finish of a miniature, coupled with the real light and lenses, that can often make it feel more realistic, and any movement tends to feel more organic and nuanced. It really depends on what the effect is, but for me it's a far more enjoyable process than solely using CG and has a charm that's difficult to simulate… although I do like to use CG to augment miniatures and add any finishing touches."
Sponsored Links by DQ Promote