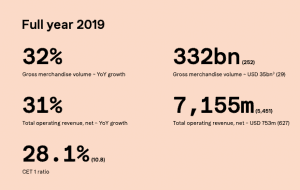 Klarna, a point of sale financing platform, has posted its financial report for full year 2019. According to the numbers, top line revenue rose to SEK 7.1 billion versus year prior of SEK 5.5 billion. The increase in revenue was joined by a net income loss of SEK 902 million as the payments platform focused on growth.
During 2019, Klarna raised $460 million in funding at a $5.5 billion valuation led by Dragoneer. The company thus has a significant war chest to pursue acquisitions as well as organic growth.
Founded in 2005, Klarna has emerged as one of Europe's largest banks and reports providing payment solutions for 85 million consumers across 205,000 merchants in 17 countries. Klarna offers direct payments, pay after delivery options and installment plans in a one-click purchase process that lets consumers pay at a point in the future. Today, Klarna reports a million transactions every 24 hours.
In the US, the Klarna app is said to be growing rapidly and monthly active users have increased by 4x since June 2019. Klarna claims to be the fastest-growing player in the US payment sector.
In a note to shareholders, Klarna CEO and founder Sebastian Siemiatkowski said their focus on its consumer experience is relentless and guides everything they do:
"The value we bring is reflected in the continued momentum, with year-on-year growth in volumes and operating revenues, net, of 32% and 31% respectively. Klarna is now powering over 200,000 global merchant partners across verticals and the strength of our position is clear as we are the most preferred payments provider among the top 100 highest grossing merchants in the US. As our brand grows in stature, preference builds and Klarna is now driving millions of referrals and consumer traffic each month from our own channels to our merchant partners, as consumers actively seek out where they can shop with us but also importantly, we help merchants build loyalty in a highly competitive market."
Siemiatkowski said that Klarna will continue to make necessary investments in talent, products and the platform to further strengthen their capabilities across all markets and parallelity in execution.
"We are as sharply focused as ever on continually establishing a platform to drive future long term growth and value for our shareholders and the acceleration is already tangible in the momentum we have built."
The complete report is available here.

Sponsored Links by DQ Promote