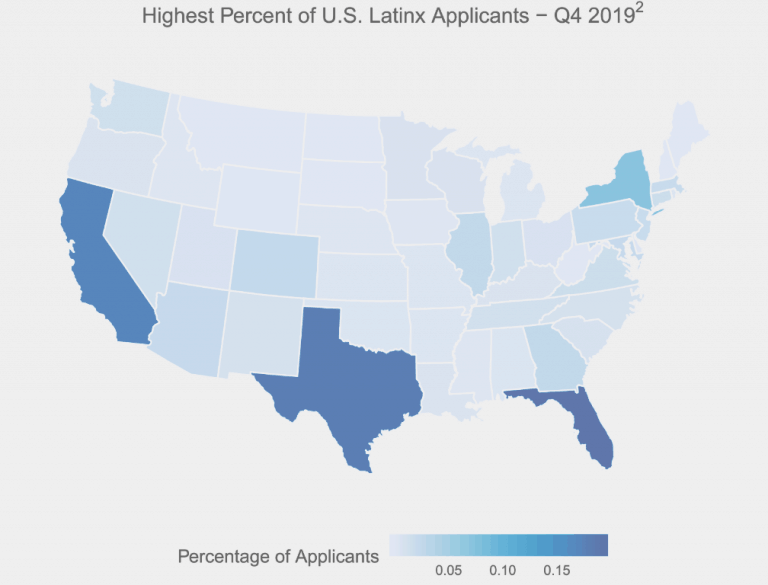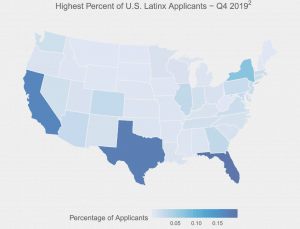 Camino Financial, a lender with a mission is to catalyze economic growth within low-to-moderate income communities, is out with a report on the US Latinx SME market and their credit needs. The Camino Financial U.S. Latinx Small Business Survey – Q4 2019, the first in what is anticipated to be a regular series of reports summarizing the credit and financial status of the U.S. Latinx Small Business segment, serves to identify and anticipate the credit needs of U.S. Latinx small businesses in general. Of course, now the Coronavirus has turned everything upside down and all businesses face economic disruption caused by the COVID-19 pandemic.
This initial report provides insights into macroeconomic trends derived from Camino Financial's 2019 business loan data based on tens of thousands of applications, the largest published data set of its kind focused on the U.S. Latinx business segment.
According to the Survey:
Credit – In Q4 2019, 35% of Latinx businesses applied for a loan with no reported Credit Score.  The average Credit Score for Latinx applicants is 634.
Velocity – Latinx entrepreneurs are rapidly launching new ventures: 56% of applicants had fewer than 2 years in operations in Q4 2019, compared to 48% in Q1 2019.
Size – The average Latinx small business generated $213,000 in annual revenue with over 80% of Latinx businesses operating in Low to Moderate Income areas.
Latinx businesses are trending to have shorter operating history with 56% of applicants with less than 2 years in operations in Q4 2019, compared to 48% in Q1 2019, as Latinx entrepreneurs begin to rapidly launch new ventures.
Almost 90% of Latinx businesses operate in Low to Moderate Income ("LMI") areas, where the revenue distribution skews smaller than businesses that operate in non – LMI areas.
Sean Salas, co-founder & CEO of Camino Financial, explains that his company has leveraged a combination of deep data and AI to produce insights into the market. The data will be used to help provide credit to the underserved market.
Kenny Salas, co-founder and COO of Camino Financial, adds that they use an alternative credit scoring system to help users secure loans:
"Data from this survey shows 35% of U.S. Latinx businesses do not have a credit score. It's important that key stakeholders understand the profile of Latinx businesses and their trends over time, especially in light of a potential financial crisis."
The report notes that U.S. Latinx economy is a key driver of economic growth in the country, growing at more than double the rate of Non-Latinx businesses and generating $2.3 trillion in GDP in 2017, making it the 8th largest economy in the world. Camino Financial says it is America's "New Mainstream Economy."

Sponsored Links by DQ Promote