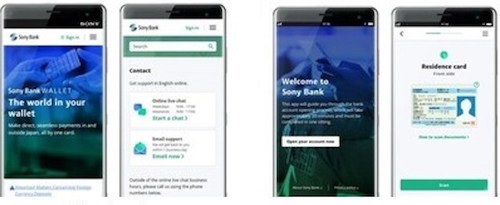 Sony Bank, a Japanese commercial banking group and a subsidiary of Sony Financial, a member of the Japanese electronics giant Sony,  announced on Monday the launch of its new "English Online Banking" services. According to Sony Bank, the new banking services will provide foreign residents in Japan with a new option for opening a banking account and conduct every banking in English.
Sony Bank also reported it decided to establish an English app that would take "the hassle out of opening an account in Japan" and allow account holders to make everyday banking transactions online.
"The new service makes banking simple for non-Japanese residents, including a dedicated English smartphone app that uses cutting-edge OCR technology to make the account opening process quick and easy, without the need for complicated paperwork."
Sony Bank then concluded that its English online banking includes products and services, such as yen and foreign currency deposits, fund transfers, foreign currency remittances, and the Sony Bank WALLET with a debit card with Visa functionality.
Founded in 2001, Sony Bank operates as a direct bank and has no physical branches or ATMs. Its main business is offering online banking with foreign currency deposits, investment trusts, and home loans.