Molinari Media, the recent acquirer of FINTECH TV, and the Asia Times Financial (ATF), have announced a co-branding and content creation and distribution alliance, according to a company release.
Last month, it was announced that Molinari Media had acquired UK based Fintech Worldwide. Molinari Media is a new company created by Vince Molinari.
This newest partnership is designed to expand the company's footprint, and its branded financial streaming platforms to Asia. For Asia Times Financial, the partnership is expected to accelerate its core aim of delivering news, data and benchmarked transparency and global tradeability to high-yield Asian fixed-income markets.
In April, 2020, Asia Times Financial launched with a focus on Chinese fixed income markets. Its news platform asiatimesfinancial.com and associated China bond index, the ATF China Bond 50 Index is now delivering data and information on some of the "world's deepest, largely untapped, markets," according to the company.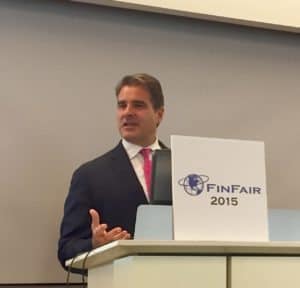 Vince Molinari, CEO of Molinari Media commented on the news:
"We are honored to partner with Asia Times Financial which is the premier financial news brand in the region. With our video-centric content focused on Digital Assets and IMPACT/ESG investing, the Asia Times Financial partnership will help us solidify our distribution into Asia's financial and blockchain community. We are also thrilled to be adding their content on our OTT platform, FINTECH.TV and creating stories and products together as part of this partnership."
Evan Kalimtgis, a founder of Asia Times Financial and a founding board member of Asia Times said the partnership will accelerate the core mission of his company that is to "provision of credible media and indices for the transformation and institutionalisation the Chinese and Asian markets to both digital and traditional investors."

Asia Times Financial content will be run on the main ATF platforms and also be featured in FINTECH.TV's coverage from NYSE, Nasdaq, and London Stock Exchange, with the first broadcasts starting in June.

Sponsored Links by DQ Promote