Molinari Media has acquired UK based Fintech Worldwide, according to a company release. Molinari Media is a new company created by Vince Molinari – a well-known individual in the Fintech and crowdfunding world. Molinari was recently involved with Templum – an ATS platform that was targeting the emerging digital securities sector.
Last November, Fintech Worldwide and Molinari Media announced a partnership to launch TheIMPACT Television and Social Media Network.
"We see this as an exciting opportunity to pivot and supplement our events business with a large scale digital format, and together we will build the world's first global media network, championing Fintech, Digital Assets and Impact to serve as the model for the future of business as we know things today," stated Dr. Jane Thomason, CEO Fintech Worldwide.
The company said the acquisition is expected to further expand the Molinari Media global footprint and its financial streaming platform to the United Kingdom and Europe. The acquisition is also said to complement the recent launch of [the] Digital Asset Reporttm- London, which is broadcast and produced from the London Stock Exchange Studios in conjunction with Global Digital Finance (GDF).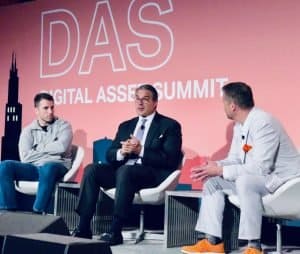 Molinari, founder and CEO of Molinari Media, said the acquisition also includes the original London Fintech and Blockchain Weeks:
"… [We] will expand our broadcast base, and loyal viewership in the financial and blockchain community. In addition to those valuable intangibles, I am so pleased that Dr. Jane Thomason will be joining our management team and Board of Directors. She also brings with her a diverse and dynamic team of experts that will serve to the continued growth and global impact of our company."
FINTECH.TV  seeks to bring the latest Fintech, Digital Asset news, as well as TheIMPACT television and social media platform. The company explains that the content focuses on bringing stories on digital technologies, the digital assets sectors, and creating social impact with accelerating progress towards the United Nations Sustainable Development Goals (SDGs). The company looks to respond to the demands of millennial investors and the interest in Environment, Social, and Governance (ESG) actions.
"The work being done by companies and individuals to solve the humanitarian and global challenges is extraordinary. We want to amplify these efforts to create further education and awareness in the Impact / Sustainability sector,"  Molinari stated.
Sponsored Links by DQ Promote