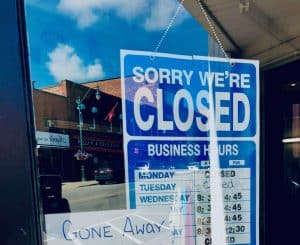 Business software provider ScaleFactor is reportedly shutting down, after securing $100 million in capital during the past year from major investors including Bessemer Venture Partners and Coatue Management.
In March 2020, the financial services company began experiencing challenges due to the global COVID-19 outbreak, which appears to have hit the US the worst (at least in terms of overall deaths and infected people).
Austin, Texas-based ScaleFactor claims that the Coronavirus crisis wiped out demand for its software products from its core or main clients which were SMEs.
Kurt Rathmann, CEO and founder at ScaleFactor, told Forbes:
"It's not the outcome we wanted. But it's the fiscally responsible CEO thing to do." 
ScaleFactor will be laying off half of its workers. The company had 100 employees on its payroll.

There will only be 10 employees remaining by the end of August 2020, the Fintech firm confirmed. They'll mainly be focusing on helping the firm wind up its operations.

Employees leaving the company will reportedly get 12 weeks severance and healthcare benefits until the end of this year.

ScaleFactor had recently posted on LinkedIn that it was looking to hire a professional user experience design specialist, and one employee even reportedly said he was "stoked" to be joining the Fintech firm.

As reported, ScaleFactor had recently secured $60 million in capital through a Series C led by Coatue. Following the raise, the company had a $360 million post-money valuation.

Canaan Partners and Bessemer Venture Partners also took part in ScaleFactor's funding round (in August 2019). The Fintech firm confirmed that it will be redistributing a certain portion of the capital it raised back to investors.

Rathmann claims that the COVID-19 crisis has wiped out nearly half of the firm's revenue. The Fintech company had reportedly managed to reach $7 million in yearly recurring revenue toward the end of last year.

However, it seems the firm's operations weren't being managed properly even before the pandemic began. For instance, ScaleFactor hired many customer service reps but then soon announced it would be laying 40 of them in February 2020.

Rathmann says customers were looking for more human interactions after the Coronavirus outbreak, which the company was unable to provide.

Established in 2014, ScaleFactor provided software for automating and streamlining back-office tasks such as bookkeeping and payroll. The software was meant for SMEs and larger businesses.

The Fintech firm charged its over 1,000 clients a flat fee for using its software. Packages started at about $6,000 and cost as much $30,000 annually.

Sponsored Links by DQ Promote