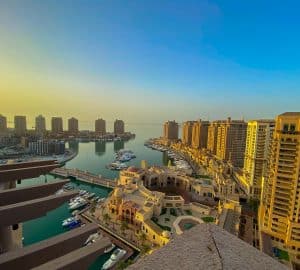 The Qatar Financial Center Regulatory Authority (QFCRA) recently revealed that it will be migrating its online services to the Microsoft Cloud in order to move forward with its digital transformation strategy.
The move to Microsoft Cloud comes after the Middle Eastern nation's Ministry of Transport and Communication (MoTC) teamed up with Microsoft in 2019. The migration to the new Cloud services should offer significant benefits such as improved scalability, enhanced productivity, lower costs, and better security. This should help with meeting relevant regulatory and compliance requirements.
Eisa Ahmed Abdulla, COO at QFCRA, stated that, at the QFCRA, they're focused on following the applicable international regulatory guidelines while adhering to industry best practices. This approach should help with maintaining "a healthy financial environment that encourages economic diversification and sustainable growth, a vital pillar of the Qatar National Vision 2030," Abdulla added.
He further noted that by migrating the organization's IT infrastructure to the Microsoft Cloud, they'll be able to meet their digital transformation objectives, while scaling their services in a secure manner. This should ensure "the soundness and stability of Qatar's financial landscape," Abdulla said.
The QFCRA confirmed that it will deploy its existing and new critical business applications to Microsoft Azure. This should allow the organization to operate in a flexible manner, while building solutions at scale and ensuring security, compliance, privacy, and transparency.
Lana Khalaf, Country Manager at Microsoft Qatar, remarked:
"We are excited to partner with QFCRA to support their digital transformation journey by enabling them to migrate to the trusted, scalable and intelligent Microsoft Cloud. This will empower them to securely scale with agility, accelerate innovation, as well as optimize costs, while ensuring to meet the local policies and regulations within the financial services industry." 
The MoTC had partnered with Microsoft in 2019 in order to work on Qatar's digital transformation roadmap. The nation's government had decided to use Microsoft Azure as its Cloud platform to meet its objective. Microsoft has also set up a data centre region in the country.

The Microsoft Cloud solution will go live at some point next year.

As reported recently, Mastercard partnered with Qatar Development Bank to support the ongoing development of the nation's Fintech sector.

As covered, Qatar is supporting Fintech development with sustainable solar energy initiatives. Local firms are also using blockchain or distributed ledger technology (DLT) to streamline operations. Qatar was recently ranked high on "ease of doing business," as the country develops Fintech friendly policies and launches a regulatory sandbox.

Sponsored Links by DQ Promote