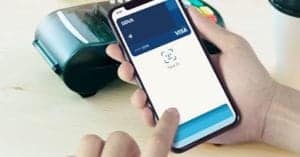 The US division of the BBVA (NYSE:BBVA), a Spanish multinational financial services company based in Madrid and Bilbao, Spain with nearly €700 billion in assets, was recently recognized as one of the world's best corporate and institutional digital banks in North America by Global Finance.
As confirmed by the bank's management, the BBVA was named the winner in the subcategories of "Best Mobile Adaptive Site" and "Best Mobile Banking App." A blog posted by the BBVA states that the bank has "been honored by Global Finance twice prior, named as the Top Treasury and Cash Management Provider in the Southwest for 2019 and 2020."
Gabriel Palafox, BBVA's USA Director of Multichannel Development, said that they've seen throughout the COVID-19 crisis that their customers depend on their all-digital platforms to manage their finances. Palafox added that useful features like the BBVA Real Time Positive Pay and Real Time ARP offer their customers the option to manage ACH and check transactions "in real time, so they can prevent fraud before it occurs."
As explained by the BBVA team, winning banking institutions were chosen by Global Finance based "on strength of strategy for attracting and servicing digital customers, success in getting clients to use digital offerings and the growth of digital customers." Banks were also assessed based on the range of products they offer, "evidence of tangible benefits gained from digital initiatives", and their overall web/mobile site design and user experience.
Gabriel Paladfox, Director of Multichannel Development at BBVA Compass, stated:
"Receiving this recognition from Global Finance tells us that we're on the right path, that the work we've put into these resources as part of our digital transformation effort are making a difference…. data and technology are the main points of one of the key pillars in our new 5-year strategic plan. We will continue to build on our overall strength in digital solutions to give our customers the flexibility and mobility they need in an increasingly digital business environment."
TJ Shavers, VP, Application Manager at BBVA Compass, remarked:
"We compete with some very strong financial institutions around the world, and I'm so proud that the hard work of the entire team and our commitment to providing our customers with the best digital experience has been recognized like this."
As covered recently, the BBVA continues to work on quantum computing data projects. It's also collaborating with German Fintech Rubean to trial a contactless payments solution.
Javier Rodriguez Soler, the Country Manager / CEO at the BBVA USA, confirmed that in early August 2020, the BBVA USA revealed it would work with Google (NASDAQ:GOOG) on a digital bank account.
The new all-digital accounts will be offered through Google Pay and are expected to be available in 2021.
Soler, a Columbia Business School MBA graduate, claims:
"Collaborations with companies like Google represent the future of banking. Consumers end up the true winners when finance and big tech work together for their benefit."
The BBVA team had pointed out that it seems that tech and finance are beginning to realize what the bank has "seen coming for years: By collaborating rather than competing, everybody wins." Soler had argued that there are "multiple winners in a tech and bank link up, from consumers to banks and tech."
He explained:
"[Consumers benefit from] the increased convenience that comes with a single digital platform that allows customers to access their chosen providers with a consistent user experience."
Sponsored Links by DQ Promote