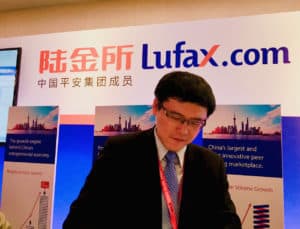 Chinese Fintech firm Lufax is reportedly planning to secure $2.36 billion through its US initial public offering (IPO). Lufax was once a top peer to peer lending platform but has since shifted into other areas of Fintech as well as online lending.
Lufax's management noted that they intend to issue 175,000,000 American depositary shares (ADS) which will be priced somewhere between $11.50 – $13.50 per share. Lufax's IPO could be valued as high as $2.36 billion (based on these prices). The Shanghai-based company is backed by Chinese financial giant Ping An Group. Its management has confirmed that it plans to list on the New York Stock Exchange (NYSE) under the "LU" ticker.
As reported by CNBC, Chinese tech firms may be trying to capitalize on the recent recovery of stock markets by going public, which may include plans that involve Wall Street, even though there have been political tensions between China and the US.
Lufax's NYSE listing has been announced at a time when tensions between China and the US have escalated. American-listed Chinese companies might face an uncertain future due to these issues. US lawmakers have recommended stricter regulations and increased scrutiny of Chinese businesses. It's possible that some Chinese firms could even get delisted from US exchanges.
Lufax Holding Ltd. may be considered a smaller competitor or rival to Chinese Fintech giant Ant Group Co., which is looking to secure up to $2.4 billion from its IPO in the US. The deal might put a significantly lower value on Lufax, which has tried to rebrand or reinvent its company and business after Chinese regulators launched a massive crackdown on scams being carried out by local peer to peer lenders.
Greg Gibb, CEO at Lufax, an online wealth management platform and tech solution provider for local governments and financial institutions, had shared his views and insights (last year) on the future of Fintech, during the Committee of 100 Greater China Conference and Gala 2019, which were held at the Ritz-Carlton Shanghai, Pudong.
Gibb had noted (in December 2019) that the Chinese Fintech sector is "restructuring dramatically," a process which began a year to 18 months ago, and may continue for up to another year and a half.
He had also mentioned that before restructuring began, there were many firms that were operating in the Fintech sector. Gibb argues that the number of Fintechs is going to go down to around by "a couple hundred," a statement that has been echoed by others. This largely has to do with the Chinese peer to peer lending industry which once was the largest sector of Fintech in the world but has collapsed in spectacular fashion. The P2P industry endured rampant fraud like Ezubao – one of the largest frauds anywhere – ever. Ezubao stole an estimated $7.7 billion from Chinese investors.
As Chinese regulators tightened things up, the once prolific sector started to collapse. Lufax, at one time, was one of the largest peer to peer lenders in China. Survivors have moved into other areas like wealth management or online lending – minus retail investors.
However, the Lufax executive had said (last year) that he doesn't think the consolidation will result in a typical "winner-take-all situation." Instead, it might be more likely that the top 10-15 industry participants will dominate the market.
Gibb had remarked (in December 2019):
"It is a very crowded space with lots of niches. The bar of play is going up very fast, and the winners are those armed with financial DNA, a lot of data, and breakthrough technologies."
Sponsored Links by DQ Promote