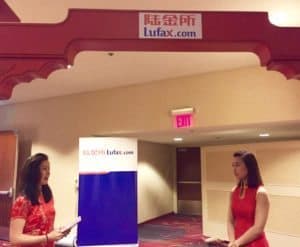 Chinese Fintech firm Lufax had been planning to secure $2.36 billion through its US initial public offering (IPO).
As previously reported, Lufax was once a top peer to peer lending platform but has since shifted into other areas of Fintech as well as online lending.
Lufax is currently working on laying the groundwork for its global expansion plans over the next five years. The Fintech giant had made extensive plans to secure capital from its US IPO, so that it can further scale its business operations, according to Greg Gibb, the CEO at Lufax.
Lufax began trading on the New York Stock Exchange (NYSE) on October 30, 2020. The Fintech firm has raised approximately $2.36 billion. But the company's stock price dropped by 14.3% on debut and then it managed to recover some of the losses to close out trading activity at $12.85 per share (which is 4.8% lower than the stock's $13.50 offering price).
Lufax works with financial institutions to provide loans to small companies. The company also offers wealth management products through its platform. It's now beginning to consider a more serious international push so that it can expand its business operations.
In statements shared with CNBC, Greg Gibb, CEO of Lufax, noted:
"The way we look at the international side, particularly Southeast Asia, is a great long-term opportunity. In many of the markets in [this region,] you add it up, it's still smaller than a province in China, so our immediate priority for the next three of four years in terms of growth is clearly the domestic market."
Gibb added that if we consider the different changes or developments in Hong Kong, Greater Bay, it might be advantageous to "open up those links there." He also mentioned that Lufax believes that it's "the right time to start to put some preparation in place for what, five years out, could be quite interesting."
The Greater Bay Area is part of a plan by the Chinese government to link Macau and Hong Kong with major cities and financial hubs in South China.
Lufax introduced wealth management services in Singapore (in 2017). The Fintech firm has also been offering certain services in Hong Kong and Indonesia. However, the firm's IPO prospectus reveals that its revenue from its global operations is "not yet material."
Gibb stated that Lufax's overseas expansion efforts may require the company to work with domestic brands. However, there will always be Lufax technology behind the product, Gibb clarified. Like many other modern Fintechs, Lufax leverages data analytics and artificial intelligence (AI) to match its clients with suitable financial products and services.
It's worth noting that Lufax managed to successfully launch its IPO despite political tensions between China and the US. While Chinese firms continue to operate in US markets, lawmakers in Washington are now calling for stricter rules for companies that are headquartered in mainland China. American government officials have recommended legislation that might delist some Chinese companies in the US (if it's approved).
Gibb added:
"Our view is that we are a Chinese company that has a lot of transparency that actually welcomes being on a global stage. We think that… New York is a great place for us to start, it gives us the access to the right investors, to the right analyst coverage."
He continued:
"The [Chinese] market changes very quickly, the regulations are changing to keep up with the market, one of our marks of success, the reason that we've actually brought the company public now, is because we think the regulatory framework has improved a lot …If you went back five years ago one of the issues with fintech in China was there wasn't much regulation and that led to its own set of problems…we think [now] actually the goalposts are increasingly clear. The regulatory risks are declining. … one of our key strengths that we have developed over this period is the ability to pivot when you need to and always have a plan B."
Sponsored Links by DQ Promote