Crypto pioneer and early Bitcoin thought-leader Diana Biggs has reportedly decided to join Switzerland-headquartered firm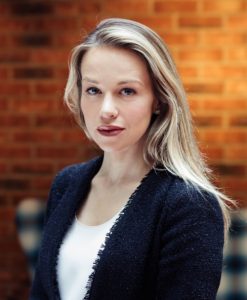 which allows investors to easily acquire digital assets through their banking provider or brokerage firms.  Biggs will lead the company's expansion, following the recent launch of Bitcoin Zero, Valour's Bitcoin (BTC) exchange-traded product (ETP), according to a note from the company.
This move is quite significant given that Elon Musk's Tesla Inc has acquired $1.5 billion worth of Bitcoin (BTC) and plans to accept it as a form of payment. This move could massively boost the mainstream markets for digital assets (and already has).
Biggs has explored the potential for blockchain or distributed ledger technology (DLT) to help address humanitarian challenges through her initiative, Proof of Purpose (in 2017), and her TEDx speech on blockchain technology that year has become quite popular.
Valour, a Zug, Switzerland-headquartered issuer of investment products, has hired Biggs, the former Private Banking Global Head of Innovation for HSBC, as its Chief Executive after recently introducing Bitcoin Zero, a zero-fee, digital asset ETP product that currently trades on the NGM stock exchange.
Biggs, who has been involved in the crypto industry since 2013, told TechCrunch:
"I have never seen this much attention to Bitcoin and other crypto-assets… The time for decentralized technologies has arrived, and their potential is increasingly realized by institutional investors."
Johan Wattenström, Founder at Valour, remarked:
"Diana is the perfect candidate to lead the company through this next phase of growth and expansion. With a wealth of experience in traditional finance, as well as Fintech, and her vision for bringing digital assets into the mainstream, we feel very lucky to have her on board." 
Wattenström had reportedly created and then listed the digital asset ETP on Nasdaq Nordic back in 2015.

Biggs is an Associate Fellow at the University of Oxford's Saïd Business School. She has worked as Head Tutor for their Blockchain Strategy Program (from 2018 to 2020).

She is also on the Board of the World Economic Forum's (WEF) Digital Leaders of Europe community and serves as a member of the Milken Institute's Young Leaders Circle. Before joining Valour, Biggs was working as Global Head of Innovation for HSBC Private Banking, where she was responsible for taking care of Fintech partnerships and supporting open innovation projects.

Switzerland remains one of the world's leading financial markets.

Switzerland-based Valuu, a fully digital mortgage brokerage platform introduced by PostFinance, has revealed that it managed to triple the total volume of mortgages brokered when compared to its first year offering these services.

Switzerland is currently home to around 130 startups that are actively applying blockchain or distributed ledger tech (DLT) to improve processes in the finance sector, according to new data from Swisscom. The majority of these firms (48%) offer services related to banking infrastructure, with many others offering investment management (24%), and payments services (21%).

The largest sector, banking infrastructure, includes firms focused on DLT-enabled tokenization, with companies or providers such as Axedras and dauras. Meanwhile, digital asset custody services are being provided by companies like Taurus and Custodigit and crypto banks such as Seba and Sygnum are providing other digital financial services.

Roland Cortivo, Head of blockchain infrastructure for digital business at Swisscom, noted that he's expecting the industry to keep expanding with even more bank-related services such as multi-bank signature management solutions.

Sponsored Links by DQ Promote