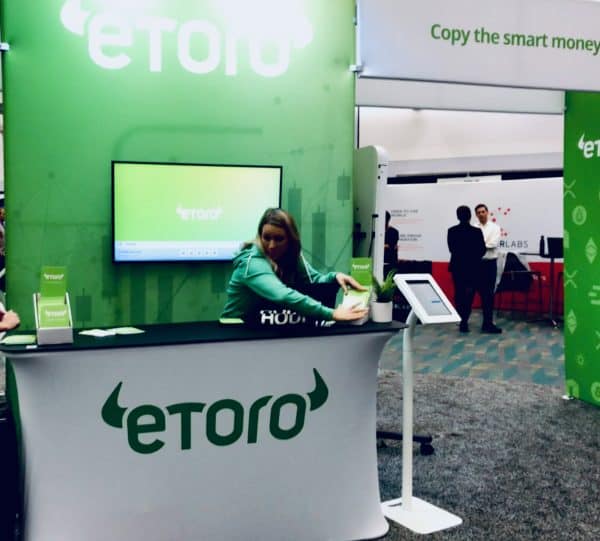 eToro, a digital investment platform, has announced it will become a publicly-traded company in a SPAC deal via FinTech Acquisition Corp. V (NASDAQ: FTCV). The deal includes a $650 million common share private placement from investors including ION Investment Group, Softbank Vision Fund 2, Third Point LLC, Fidelity Management & Research Company LLC, and Wellington Management.
Founded in 2007, eToro will hold an implied equity value of $10.4 billion. eToro reports that in 2020 it added more than 5 million registered users and generated $605 million in revenue growing 147% versus the year prior. In January alone, eToro says it boosted registered users by a whopping 1.2 million while completing 75 million trades. eToro currently has over 20 million registered users. eToro offers equities, ETFs, commodities, currencies, cryptoassets and more.
eToro is regulated in the U.K., Europe, Australia, the U.S., and Gibraltar. In 2019 the company launched crypto and social trading in the U.S.. eToro has received approval from FINRA for a broker-dealer license and plans to launch trading in stocks in the U.S. in the second half of 2021.
eToro describes itself as a "social investment network" that offers commission-free fractional equities as well as cryptoassets. Users may trade directly themselves, invest in a smart portfolio, or replicate the investment strategy of successful investors on the platform at no extra cost.
Yoni Assia, Chief Executive Officer of eToro, said they founded eToro with a vision of opening global markets to everyone in a simple and transparent way:
"Today, eToro is the world's leading social investment network. Our users come to eToro to invest, but also to communicate with each other; to see, follow, and automatically copy successful investors from all around the world. We created a new category of wealth management – social investing – and we are dominating the market as evidenced by our rapid expansion."
Assia said the SPAC deal is a "momentous milestone for eToro":
"I want to express my gratitude for the passion, hard work, drive and determination of all of the eToro team members over the past 14 years who have helped make this a reality."
Betsy Cohen, Chairman of the Board of Directors of FinTech V, stated:
"As a pioneer in the evolution of SPACs, Fintech Masala, our sponsor platform, seeks out companies with outsized growth, effective controls and excellent management teams. eToro meets all three of these criteria. In the last few years, eToro has solidified its position as the leading online social trading platform outside the U.S., outlined its plans for the U.S. market, and diversified its income streams. It is now at an inflection point of growth, and we believe eToro is exceptionally positioned to capitalize on this opportunity."
The transaction includes $250 million in gross proceeds from FinTech V's cash in trust (assuming no redemptions) and $650 million in gross proceeds from a fully committed private placement in public equity (PIPE) at $10.00 per share from various strategic and institutional investors. The company is expected to have approximately $800 million net cash on its balance sheet following the deal.

Existing eToro equity holders, including current investors and employees of the firm, will remain the largest investors in the combined company retaining approximately 91% ownership immediately following the business combination. The business combination is targeted to close in the third quarter of 2021, subject to stockholder approvals and other customary closing conditions.

Sponsored