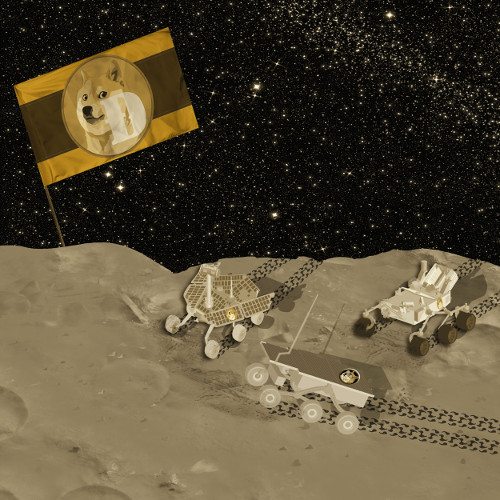 This is a sign of the times, I guess. According to a report, a Managing Director at Goldman Sachs (NYSE:GS) has exited the vaunted investment bank after making big money in Dogecoin.
Beginning in 2021, Dogecoin traded as less than a penny per coin. Jump forward a couple of months and Dogecoin is now trading at around $0.50 – off from a high of over $0.70. If you had purchased Dogecoin on January 1st and sold it recently you made a killing.
Efinancialcareers reports that Aziz McMahon, head of emerging market sales at Goldman in London, has said adios to the prominent bank. While McMahon's LinkedIn page indicates he is still at the firm (after 14 years), it may be a cryptocurrency that was creaeted as a joke that has provided the banker the type of financial security he may have desired when he joined Goldman. If you did not know, Dogecoin is now the 4th most valuable crypto by market cap standing around $65 billion.
Meanwhile, Goldman Sachs has kicked off crypto-trading after a digital balk a couple of years ago. CNBC shares that its new crypto-desk has traded two kinds of Bitcoin derivatives. Expect more to follow. In a memo shared in the report, Goldman said:
"As part of our initial launch, we have successfully executed Bitcoin (BTC) NDFs and CME BTC future trades on a principal basis, all cash settling. Looking ahead, as we continue to broaden our market presence, albeit in a measured way, we are selectively onboarding new liquidity providers to help us in expanding our offering."
Perhaps, Goldman should have followed through with its crypto initiative the first time it considered the digital asset sector.
Meanwhile, Elon Musk's stint as a host of Saturday Night Live failed to launch Dogecoin further into the crypto-sphere. But fear not, as you can be certain Elon will be chatting up crypto on Twitter soon enough.
here's a clip of elon musk explaining what doge coin is on SNL….he said it's a hustle 😂 pic.twitter.com/iyXbKH0FPZ

— niffauw (@RustigNiffauw) May 9, 2021
Sponsored Links by DQ Promote