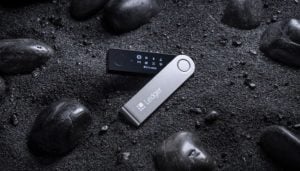 Ledger, a popular seller of wallets for digital assets, has raised $380 million in a Series C funding round. The funding was led by 10T, alongside other investors from our Series B round such as Cathay Innovation, Draper Associates, Draper Dragon, Draper Esprit, DCG, and Wicklow Capital. New investors participating include Tekne Capital, Uphold Ventures, Felix Capital, Inherent, Financière Agache (Groupe Arnault), and iAngels Technologies.
Paris-based Ledger received a valuation of over $1.5 billion.
Pascal Gauthier, Chairman and CEO of Ledger, stated:
"…we see new institutions stepping into the crypto space every day and more people interacting with digital assets in their daily lives. We 300 strong (and growing) and proud to be a part of this movement for seven years now. Since 2014, we have sold more than 3 million hardware wallets in 190 countries and have more than 1.5 million monthly users on Ledger Live."
Ledger said the new funding will enable them to expand globally while boosting its services:
Further innovate hardware products, including new products in the pipeline.
Add new transactional services to Ledger Live such as decentralized finance solutions.
Integrate new third-party services through the ongoing development of our proprietary OS.
Strengthen our capacity to support businesses through Ledger Enterprise Solutions.
Ledger reports that it secures an estimated 15% of all cryptocurrency assets globally and is poised to grow as digital assets become increasingly mainstream.
Gauthier added that the Series C marks the transition of Ledger from the leading digital asset security company to becoming the secure gateway to the entire digital asset ecosystem.
"This industry is fast becoming mainstream and reshaping the entire financial sector and beyond. Our products are designed to give users maximum control over their digital assets and provide unparalleled protection against cyber-attacks. We are well-positioned to become the secure gateway to the digital asset world with the potential to integrate our services into nearly every feature of the digital asset ecosystem."
Will Turner, Managing Partner at Draper Esprit, stated:
"We met Pascal and the team at Ledger many years ago and were excited to lead their Series B round in 2018, and they've continued to build impressively since. We're delighted to continue our support of Ledger with this impressive round. Ledger is at the forefront of a huge growth trend in digital assets and there remains incredible potential for this business in what is a rapidly growing market. Ledger is also a great example of how French tech can take on the world and we see many great companies following their lead."