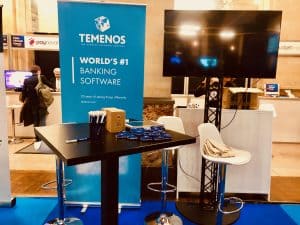 Temenos (SIX: TEMN), the banking software firm, brings to market the next-gen in virtual banking with Temenos Infinity Micro Apps.
Temenos Infinity Micro Apps are now able to provide packaged business capabilities (PBC), for banking platforms to quickly develop customized digital customer experiences by adding or removing certain capabilities or functionalities.
This approach supports shorter development cycles, provides targeted personalized experiences, accelerated innovation and significantly quicker time to market. Temenos Infinity is a leading digital banking platform that's currently being used by more than 650 financial institutions.
Provided as a SaaS or on-premise, Temenos Infinity Micro Apps mainly focus on a single use-case and aim to encapsulate its key functionality. This should make it simpler to add, remove, and configure the modules that can be found in Temenos Infinity, enabling banking institutions to take advantage of the trend towards improved banking experiences (which may be intended for certain demographics like families, students or gig economy workers).
In order to improve customer engagement, banks have to enhance their mobile apps, and online front-ends on a regular basis. With Temenos Infinity Micro Apps, banks may offer a consistent experience across channels and personalize what clients are able to see when visiting their online or mobile platforms.
A client that maintains business and retail accounts, for instance, may view everything in a single place and have the ability to switch between business and retail banking from within their app. With Temenos Infinity, banking platforms are able to test the functionality and introduce features quickly, and also launch products to market when consumers need them.
Joaquin de Valenzuela Muley, SVP & Global Business Line Director Infinity, stated:
"Banks understand that people crave simplicity in banking but the one size fits all approach doesn't work in digital. With Temenos Infinity Micro Apps we are transforming the banks' monolithic frontends into micro frontends. Giving banks the building blocks to create the ideal digital banking experiences at hyper-speed. With Temenos Infinity Micro Apps banks can target the right experience to the right customers. For example, a family app needs a different experience from private banking app or one for business owners."
Bola Rotibi, Research Direct, CCS Insight, remarked:
"Banks need solutions based on microapps instead of monolithic structures to make it easier and quicker to create new features and services. Leading providers of banking software such as Temenos with its Temenos Infinity Micro Apps are well positioned to help banks evolve their digital strategy by making it easier to pull new capabilities into their existing digital banking platforms. Such solutions help banks improve business agility through faster, user-friendly and iterative delivery of updates and new features."
With Temenos Infinity Micro Apps architecture, banking services providers are able to:
Develop compelling customer apps: Banks can create their own unique digital experiences from scratch with Temenos Infinity Micro Apps as building blocks. They are able to use the Temenos Infinity Micro Apps as accelerators to add more capabilities/functionality.
Simplify the configuration of Temenos Infinity: Temenos Infinity for Retail Banking includes a lot of useful functionality. With this approach, banks are able to quickly remove or disable the Micro Apps they may not need. The cross-dependencies between Micro Apps have been well-defined, which means it's clear how the user experience and functionality of the packaged app may change by removing the Micro App.
Benefit from quicker updates and easily being able to add functionality: The Micro Apps architecture makes it easier for banking platforms to offer their apps while improving their digital client experience.
Sponsored Links by DQ Promote