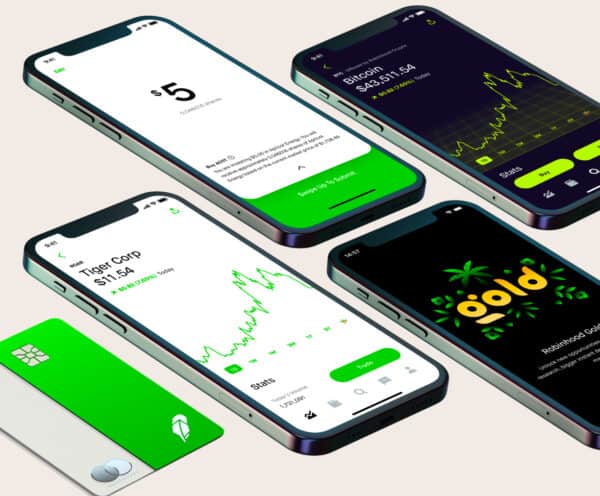 Robinhood, a fast-growing digital trading platform for both traditional securities as well as crypto, has filed an updated S-1 with the Securities and Exchange Commission (SEC) in advance of its forthcoming initial public offering (IPO).
According to the document, Robinhood aims to raise up to $2,541,000,000 at a per share price of $42. Robinhood would trade under the ticker symbol "HOOD" on the Nasdaq. Robinhood is now being valued at around $35 billion according to reports.
Robinhood is offering 52,375,000 shares of Class A common stock while selling stockholders are offering an additional 2,625,000 shares.  Selling shareholders include the founders and CFO. The document states:
"Upon completion of this offering, all outstanding shares of our Class B common stock will be held by our founders, Baiju Bhatt and Vladimir Tenev, and their related entities. Upon the completion of this offering, (i) Mr. Tenev, who is also our CEO, President and a director, and his related entities will hold an economic interest in approximately 7.9%  of our outstanding capital stock and Mr. Tenev will hold approximately 26.2% of the voting power of our outstanding capital stock and (ii) Mr. Bhatt, who is also our Chief Creative Officer and a director, and his related entities will hold an economic interest in approximately 7.9% of our outstanding capital stock and Mr. Bhatt will hold approximately 39.0% of the voting power of our outstanding capital stock, in each case, which voting power may increase over time upon the vesting and settlement of equity awards held by such founder that are outstanding immediately prior to the effectiveness of this offering if such founder exercises his Equity Exchange Rights (as defined herein) to exchange the Class A common stock received in settlement of such awards for Class B common stock."
Robinhood wants to enable its users to participate in the  IPO and thus the Fintech will offer approximately $440 million to $770 million worth of shares to Robinhood customers through its IPO Access feature.
Robinhood reports 18 million funded accounts with 17.7 million active monthly users. Currently, assets under custody are around $81 billion. More than 50% of its users are first-time investors. Robinhood's mission is to democratize investing for everyone by making its service easy to use.
Robinhood currently offers trading in US-listed stocks and ETFs, as well as related options and ADRs. Via a subsidiary Robinhood Crypto, LLC, the company offers cryptocurrency trading. A growing amount of Robinhood's revenue is being driven by crypto trading.
A popular feature includes fractional trading, which makes it easier for smaller investors to quickly diversify.
Robinhood also offers Cash Management, including debit cards along with bill paying, checking, earning interest, withdrawing funds via ATMs and receiving FDIC pass-through insurance on cash swept from their brokerage account. Robinhood Gold is a monthly paid subscription service that provides customers with premium features, such as instant access to deposits, professional research, Nasdaq Level II market data, and, upon approval, access to margin investing.
Robinhood reports that for the three months ended March 31, 2021, total revenue grew by 309% to $522 million, up from $128 million during the same quarter year prior. The company recorded net loss of $1.4 billion, which included a $1.5 billion fair value adjustment for convertible notes and warrant liability, compared to a net loss of $53 million and an adjusted EBITDA was $115 million, compared to a negative $47 million.
The current platform that includes retail brokerage, cryptocurrency trading, and Cash Management offerings are described as a "first step toward a comprehensive financial services platform."
The company's vision includes expanding internationally and Robinhood intends to pursue other markets including into Europe and Asia.
Robinhood has rocketed in popularity with younger investors but its rapid growth has not been without a few stumbles along the way. Robinhood recently settled a complaint with FINRA by paying a $70 million penalty for "systemic supervisory failures and significant harm suffered by millions of customers." A settlement with the SEC has been set at $65 million regarding Robinhood's failure to disclose its receipt of payment for order flow in certain of its communications with its retail customers.
Additionally, the rise of "meme stocks" and targeted trading driven by certain Reddit boards has increased regulatory scrutiny regarding Robinhood's operations. Congress has held several hearings on the issue and the SEC has slated certain trading features that may impact Robinhood for review.
Robinhood is expected to float shares on the Nasdaq at some point next week.
Have a crowdfunding offering you'd like to share? Submit an offering for consideration using our Submit a Tip form and we may share it on our site!