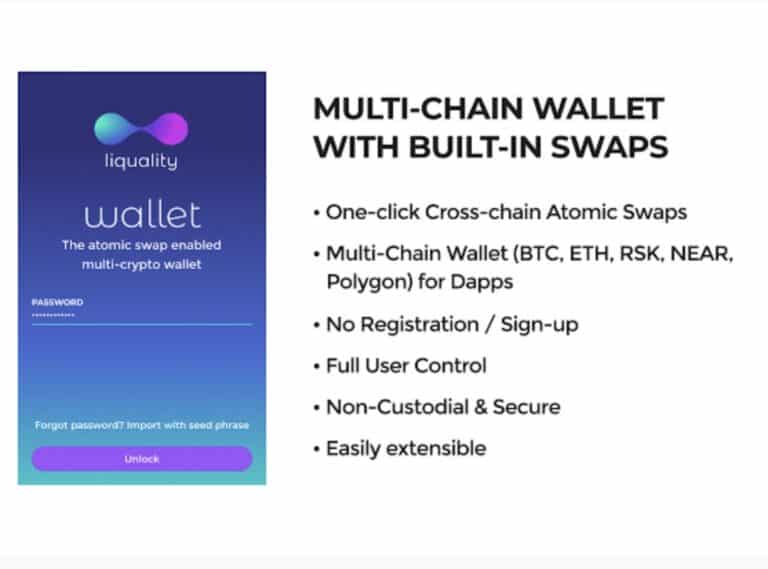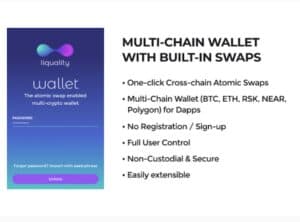 Liquality, which claims to be the first multi-chain browser extension wallet, has announced the completion of a $7 million funding round that was led by Hashed, Galaxy Digital, White Star Capital, Accomplice, Coinbase Ventures, among others.
Founded in 2018, Liquality offers access to widely-used blockchain platforms as well as bridges between them through "frictionless" and non-custodial cross-chain atomic swaps.
Liquality reportedly includes a growing number of components such as a multi-chain wallet with built-in swaps, functionality across blockchain or distributed ledger tech (DLT) networks and "one-click" cross-chain atomic swaps.
As a "truly" decentralized solution, Liquality is "easily" extensible across any open-source projects in order to "maximize choice and avoid being locked in to any specific vendor ecosystem," the announcement noted.
Mike Novogratz, CEO of Galaxy Digital, stated:
"We look to partner with founders who are building the future. Liquality's team is mission-driven and the product vision is big – from secure cross-chain swaps to frictionless multi-chain functionality."
Jon Kol, Co-Head of Galaxy Digital Principal Investments, said:
"Fundraising for a wallet requires partners who are mission-aligned and share a vision for the future of the industry, and given this is our first wallet-focused investment, we're especially excited to partner with Liquality on this investment."
Liquality's management noted that they aim to offer "fully secure" solutions to the blockchain ecosystem, beginning with decentralized finance or DeFi.
As mentioned in a release:
"Core to the security of Liquality's technology is true disintermediation, a fundamental pillar in the vision of a Web3-enabled financial infrastructure. Atomic swaps provide users with secure DeFi solutions by allowing them to swap in between assets without relying on any intermediary — including centralized exchanges, decentralized exchanges, OTC escrows, custody solutions, and others."
Liquality recently integrated with RSK, which is a Bitcoin sidechain, allowing the community to carry out quick and secure swaps between BTC and RBTC and "the ability to use popular RSK dapps like Sovryn."
The firm said that it's "growing exponentially, having doubled its headcount in 2021 alone, and this new fundraising round will only help attract outside talent to add features."
The proceeds from the round should help the Liquality team and wider community "integrate new blockchains and develop native Dapp experiences for the wallet in addition to decentralizing their platform through a DAO and exploring token models for governance and incentivization."
Simon Lapscher, Co-founder at Liquality, remarked:
"At Liquality we've been able to create a powerful chrome extension wallet for managing assets, swapping between them in one click, and accessing the decentralized web. We are excited to have attracted a group of investors that have been involved in building a monumental peer-to-peer swap business and we will leverage this investment to continue our growth in an ever-changing, competitive landscape. This gets us a huge step closer to helping people hold assets, use dApps on multiple chains, and quickly swap cross-chain on one single platform."
As noted in the release, Liquality's mission or goal is to develop appropriate tools and protocols that allow all peers "to interact with the decentralized economy in the most secure, easy, and accessible way."

By offering a platform where users are able to manage assets, swap between them in "one click," and access the decentralized web, Liquality is "empowering digital autonomy for an open, equitable world."

Sponsored Links by DQ Promote