The infrastructure bill (H.R.3684) is on its way to becoming law. After a circuitous legislative path that saw extreme left legislative vote against the bill while several Republicans helped to push it across the finish line, a pinnacle of the Biden Administration's legislative ambitions is headed for a victory. Unfortunately, it appears the digital assets – or crypto will soon be saddled with additional reporting requirements.
While there is plenty to sort through as the bill is 2740 pages long, Congresswoman Nancy Mace is criticizing the $1.2 trillion legislation as providing just 10% for true infrastructure.
And yet it will still pass bc @aoc had the cover to vote no. How do ppl actually fall for this? That's what's bullshit.

42 new taxes.
Less than 10% on roads and bridges.
No bipartisanship in the House.
And the squad voted no when they got the cover to do so. https://t.co/tREAntAmjt

— Rep. Nancy Mace (@RepNancyMace) November 6, 2021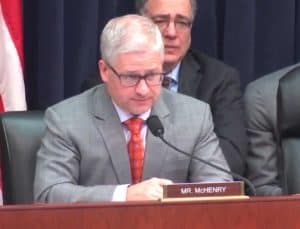 Congressman Patrick McHenry, ranking Member on the House Financial Services Committee, has distributed a statement slamming the bill while pointing to the digital asset language:
"Today the House voted on a $1.2 trillion dollar bill full of progressive priorities and reckless spending. Instead of addressing the nation's real infrastructure needs, this bill wastes billions of dollars funding modes of transportation that most Americans aren't using. To make matters worse, a quarter of the total price tag of this bill is unpaid for, which means more debt that American taxpayers can't afford."
 
"Also tucked away in this bad bill are digital asset reporting requirements that will have a long-lasting and harmful impact on innovation here in the U.S. Using a so-called infrastructure package to write the rules of the road for new technology is indicative of Democrats' inability to legislate."
 
"Beyond the reckless spending and flawed policy, we know the true goal of this bill: to pave the way for the Democrats' real priority—their multi-trillion-dollar tax and spending spree. Far-left Democrats in Congress designed this monstrous package to fundamentally change the role the government plays in Americans' lives. It is projected to add hundreds of billions to the deficit all while raising taxes, killing jobs, massively expanding the scope of the federal government, and placing new burdens on hardworking families and businesses. The American people cannot afford these destructive and irresponsible policies."
Kristin Smith, the Executive Director of the Blockchain Association, acknowledged the political loss on Twitter.
We may have lost the battle to remove these provisions from BIF, but this fight jolted a sleeping crypto giant.

We'll have more resources, more brilliant minds and more boots on the ground to fight harmful regulation + legislation.

Far from defeat, we're just getting started. https://t.co/52O5yfR46B

— Kristin Smith (@KMSmithDC) November 6, 2021
As has been previously debated and discussed, the Biden Administration has looked to crypto transactions as a potential path for more revenue to cover some of the increased spending. By increasing the reporting mandates the legislation expects to be able to better assess any potential tax liability while compelling digital asset brokers to maintain these records.