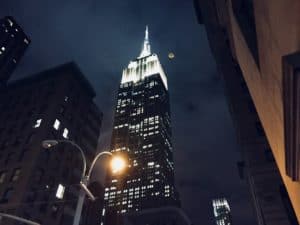 New York City's new Mayor Eric Adams has been criticized for using of his public office in an attempt to promote the cryptocurrency sector.
An upstate New York environmental group, called Seneca Lake Guardian, has stated that creating and managing virtual currency tends to consume very large amounts of energy (due mainly to the energy intensive proof of work mining process). Cryptocurrencies like Bitcoin and Ethereum are produced by large power plants, which can have a negative impact on our environment (problems leading to climate change issues).
NYC Mayor Adams is "dead wrong and his ignorance could cost New Yorkers millions of dollars in energy bills while killing local economies, poisoning our water and filling our air with deadly C02 emissions," the Group has alleged.
State Attorney General Letitia James has been conducting extensive investigations into digital currency trading firms and has cautioned that  investors must "proceed with extreme caution when investing in virtual currencies."
James also warned that cryptocurrencies "are high-risk, unstable investments that could result in devastating losses just as quickly as they can provide gains."
Meanwhile, Adams has recommended that digital currency and blockchain tech, a distributed, digital ledger where virtual currency transfers are permanently recorded, needs to taught in public schools or academic institutions.
Virtual currency is a kind of digital money that makes use of encryption technology and algorithms to reliably track digital transfers of value.
These cryptos aren't actually backed by a nation's government, a reserve bank, interest rates, or an established history of exchange rates against other  major fiat currencies. This can make it challenging to determine their real value.
When questioned in November 2021 whether it might be a poorly-planned economic strategy and would present a conflict of interest for the Mayor, Adams said (in statements shared with CNN and cited by Daily Mail):
"I'm using my personal money. I lost thousands of dollars in the stock market during the stock market crash in my retirement fund. Volatility is part of some of the investments that we make."
In November of last year, Adams had appeared at a political conference in Puerto Rico on a private jet reportedly belonging to Brock Pierce, a former child actor and crypto billionaire entrepreneur.

A representative for Adams had told The New York Post that Adams had reportedly paid for the ride via a travel agent.

New York City Comptroller Brad Lander, whose office manages public pension funds, stated that the city's retirement systems don't have any concrete plans to make investments in virtual currencies.

Sponsored