ADDX, a Singapore-regulated digital assets exchange for private securities, has received an additional $20 million in new capital as part of a "pre-Series B" funding round. The money came from both existing and new investors – notably, Korea's largest banking group – KB Financial Group (KBFG)  (KRX: 105560, NYSE:KB) led this round.
The round initially started this past May when ADDX announced it had raised $58 million with investors, including the Stock Exchange of Thailand (SET), Hamilton Lane, and UOB.
In total, ADDX has now raised $140 million since its launch in 2017.
ADDX said the additional capital will be utilized to grow its wealth management platform launched earlier this year for private banks, brokerages, and family offices. Additionally, part of the money will be leveraged to boost its global expansion plans, including new licenses.
ADDX was founded with the mission of giving individual investors greater access to private market deals that have traditionally been open only to institutional investors. These include private credit, other fixed-income investments, private equity, hedge funds, and private real estate.
ADDX incorporates blockchain technology to automate previously manual processes, thus streamlining operations while making it economical to manage smaller investments – as little as $5000.
ADDX reports that 60% of investment subscriptions are now happening via its mobile app.
More than a dozen financial services firms are backing ADDX, including the Singapore Exchange (SGX), Stock Exchange of Thailand (SET), Hamilton Lane, Temasek subsidiary Heliconia Capital, UOB, Tokai Tokyo Financial Holdings, the Development Bank of Japan (DBJ), Kiatnakin Phatra Financial Group, Krungsri Bank and Hanwha Asset Management. ADDX stated that KB Securities will explore possible tie-ups to expand private market services in Asia, including potential collaborations in Singapore or Korea.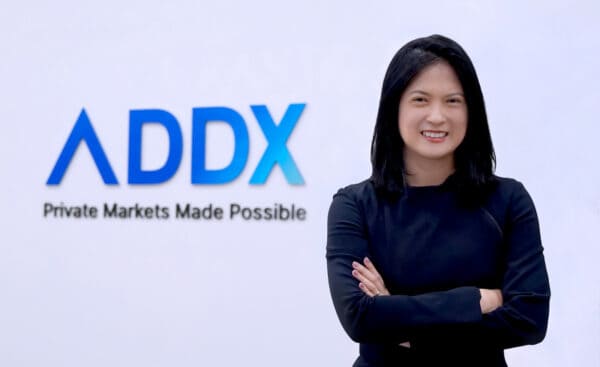 Oi-Yee Choo, CEO of ADDX, commented on the additional capital:
"ADDX has become the focal point for Asian financial institutions that believe in building a new technology-driven infrastructure for private markets, to overcome inefficiencies in the traditional model. In these volatile times, with many investors waiting by the sidelines for more stability in the financial markets, our ability to raise capital demonstrates the momentum behind ADDX and its mission. Shareholders of ADDX are industry insiders with a keen understanding of the transformative, long-term value of this project that transcends near-term cyclical forces. ADDX has a clear lead among private market platforms in Asia – we have the technology, legal, regulatory and financial knowhow, as well as the strongest set of partners. KB Securities, which belongs to Korea's biggest banking group, has now backed us – a truly exciting development, filled with potential and opportunity. Our clients will benefit from the innovation and dynamism one can expect when ADDX and KB Securities work hand in glove. We will grow together. We will be a collective force for good in Asia's capital markets."
Choo added that private markets have transformed more in the past two years than the previous two decades. She said this means more wealth creation for more people.
"In the long run, smooth and seamless capital markets will provide an uplift to growth in the real economy, with dividends for both workers and investors," said Choo.
Sponsored