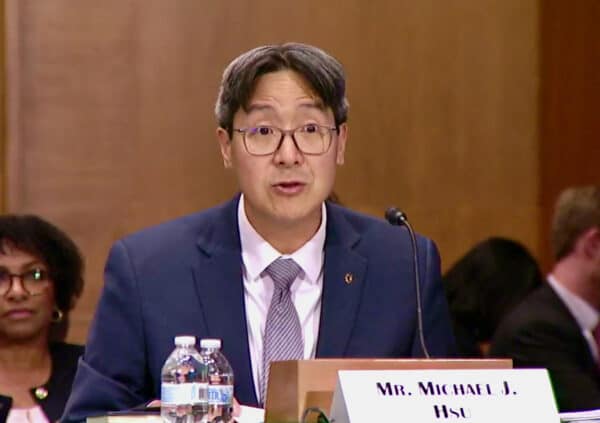 The Acting Comptroller of the Currency, Michael J. Hsu, testified in front of the Senate Committee on Banking today. In prepared testimony, the Acting Comptroller outlined his priorities for the bank regulator.
In opening statements, the Chair of the Committee, Senator Sherrod Brown, took a cautious note on "shadow banks" while worrying about crypto scams.
Ranking member Senator Patrick Toomey criticized regulators for the lack of public clarity regarding crypto activities, including stablecoins.
Toomey, a consistent voice supporting Fintech innovation – including digital assets an the need for prudent regulation, is retiring soon, and this will be one of his last Committee hearings.
While noting that he aims to encourage more "de-novo" or new bank launches, Hsu said the Office of the Comptroller of the Currency (OCC) is focused on ensuring the regulatory framework adapts, noting they have recently announced the Office of Financial Technology (Fintech) to build upon the agencies innovation initiatives.
Hsu stated:
"As the digitalization of banking accelerates and bank-fintech partnerships grow, the OCC is focused on ensuring that our expertise and regulatory framework adapts, so that the safety, soundness, and fairness of banking is maintained and even strengthened. We recently announced that we will be establishing an Office of Financial Technology early next year, building upon the work and successes of the agency's Office of Innovation, which was created in 2016. This change will enable us to engage more substantively with nonbank technology firms and to better supervise bank-fintech partnerships so that we can help ensure that consumers of banking services are treated fairly, as well as help maintain a level playing field as the industry evolves."
In written testimony, Hsu noted that more banking is taking place online and on smartphones. This means that banking has "become more complicated." Their strategic plan incorporates a need to be more agile as they are in the "early stages" as to how banking services will be provided in the future.
The OCC, under Hsu's guidance, believes in "engaging more substantively with nonbank technology firms" to better understand risk, ensuring that banking remains safe, secure, and fair.
In regards to crypto, the agency has taken a "careful and cautious approach, according to Hsu. He said that prior action taken by the OCC helped to protect banks from the TerraUSD/LUNA collapse – referencing the algorithmic stablecoin that failed.
As Congress is in a lame-duck session, there are few expectations for new legislation to emerge until after the first of the year.
While CI was unable to attend the hearing, the recorded event is available here. The hearing also involved other federal agencies, including the Federal Reserve, FDIC, and National Credit Union Administration.
The same group of regulators will be returning to Capitol Hill tomorrow (November 16)  to testify in front of the House Committee on Financial Services.