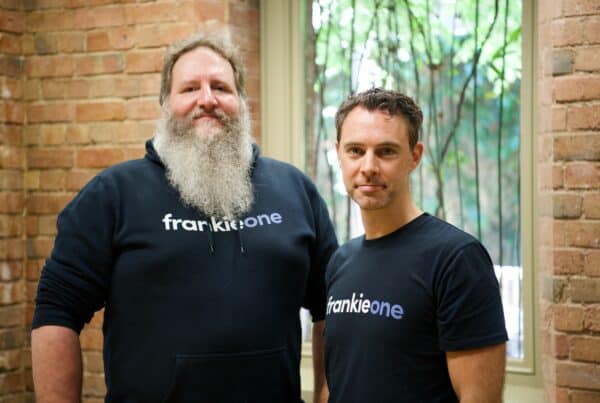 FrankieOne has raised $15.5 million in a Series A+ round led by Greycroft and Australian VC AirTree Ventures. The company reported that Reinventure (Westpac Bank's venture arm), Tidal Ventures, and Apex Capital Partners also reinvested. New strategic investors include Binance Labs and Kraken Ventures.
The funding brings the Series A round total to $30 million during a time of restrained venture activity due to a struggling global economy.
FrankieOne is a global API platform for identity verification and fraud detection firm that was originally envisioned as a neobank. Co-founded by Simon Costello and Aaron Chipper in 2019, they realized that despite the many identity verification and fraud detection providers on the market, no single vendor met their own firms' needs.
FrankieOne now provides access to a global landscape of identity verification and fraud detection providers connecting banks, Fintechs, crypto exchanges, and gaming companies to prominent vendors and data sources across 48 markets. The company reports a growing presence in Australia, Singapore, and the US.
FrankieOne reports that its growth has exploded with 4700 percent revenue growth over the last 12 months, with customers including market leaders Shopify, Afterpay, Westpac, and Pointsbet. The additional series A+ funding is expected to allow FrankieOne to scale faster and focus specifically on mirroring its success seen in Australia across North America and the Asia Pacific.
Costello, CEO of FrankieOne, commented:
"It's incredibly difficult for companies to provide a world-class onboarding experience while mitigating fraud. FrankieOne is on a mission to change this. By providing a single API to access leading identity and fraud prevention providers globally. We have been laser-focused on improving the onboarding customer experience and have been overwhelmed with the response, now helping over 170 financial institutions globally. We attribute our growth to our unique offering, which guarantees the best onboarding verification pass rates coupled with our ability to enable customers to switch on their choice of fraud detection tools seamlessly. Our platform is helping drive business growth and allows our customers to respond quickly to trends in fraudulent behavior and changing regulations, which is particularly helpful, given the increase in fraud."
John Henderson, Partner at AirTree Ventures, said they have known the founders for many years and they are excited to support FrankieOne as they scale:
"With recent high-profile security breaches shining a spotlight on organizations' responsibility to protect customers, fraud detection has never been more business-critical. The global fraud detection and prevention market is expected to reach USD 129.17 billion by 2029, and we believe FrankieOne is well positioned to continue to capture the growing market – they continue to impress us with their strong growth, unit economics, and ability to attract some of Australia's largest financial institutions as customers".
Will Szczerbiak, Partner at Greycroft, added that fraud continues to be a big issue in the digital asset marketplace:
"Fraud continues to be a major issue in digital transactions. FrankieOne is providing critical infrastructure to address this via their unified API, which seamlessly integrates data from leading identity and fraud providers across the globe. Over the past year since our initial investment, we've seen that FrankieOne's product resonates with a wide array of customers, from regional banks to market leaders such as Westpac, Pointsbet, and Shopify. We're excited to support their next phase of growth as FrankieOne continues powering identity verification and fraud detection for a growing number of businesses globally".
Sponsored