"Fueled a high-tech axis of cryptocrime."
The US Department of Justice (DOJ) has announced the arrest of Anatoly Legkodymov, 40, a Russian national who resides in Shenzhen, China, as the founder and operator of Bitzlato, a crypto exchange the feds have alleged to have processed more than $700 million for illicit activities. He also was known by the nickname "Gandalf" and "Tolik." If convicted, he faces a maximum penalty of five years in prison.
Legkodymov was arrested in Miami, an interesting twist as he was certainly aware that US enforcement authorities were interested in detaining him. As well, if he was allowed to operate in China, it is curious as to why Chinese authorities did not warn him of his pending arrest.
Legkodymov was arraigned today in the U.S. District Court for the Southern District of Florida. According to the DOJ, French authorities and the U.S. Department of the Treasury's Financial Crimes Enforcement Network (FinCEN) are taking concurrent enforcement actions.
In a release, Deputy Attorney General Lisa O. Monaco said that Justice has dealt a serious blow to the crypto criminal ecosystem.
"Overnight, the Department worked with key partners here and abroad to disrupt Bitzlato, the China-based money laundering engine that fueled a high-tech axis of cryptocrime, and to arrest its founder, Russian national Anatoly Legkodymov. Today's actions send the clear message: whether you break our laws from China or Europe – or abuse our financial system from a tropical island – you can expect to answer for your crimes inside a United States courtroom."
During a press briefing, Monaco shared that Legkodymov's arrest was coordinated with enforcement actions in multiple countries.
"Today marks the end of the Hydra, Bitzlato, cryptocrime axis," stated Monaco.
The arrest and ensuing actions by the DOJ mark the most significant actions taken by the National Cryptocurrency Enforcement Team (NCET), which was created last year.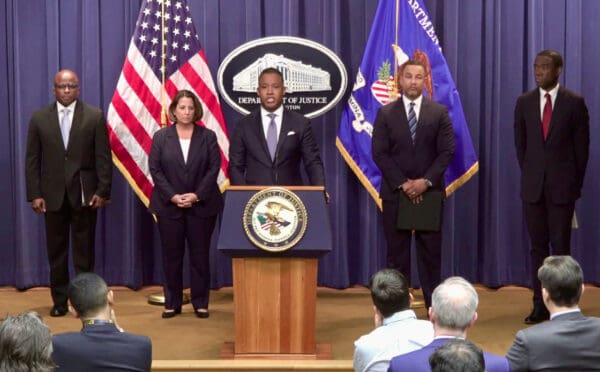 Assistant Attorney General Kenneth A. Polite, Jr. claimed that Legkodymov operated the exchange that failed to implement AML protocols allowing criminals to profit, including from drug trafficking and ransomware.
"The National Cryptocurrency Enforcement Team's tremendous efforts to disrupt Bitzlato and arrest the defendant demonstrate that we will continue to work with our partners – both foreign and domestic – to combat cryptocurrency-fueled crimes, even if they transcend international borders."
Legkodymov is described as a senior executive and the majority shareholder of Bitzlato, a Hong Kong-registered crypto exchange that operates globally. Bitzlato has marketed itself as requiring minimal identification from its users. If Bitzlato directed users to submit identifying information, it was said to allow them to provide information belonging to "straw man" registrants.

Bitzlato is described as "a haven for criminal proceeds and funds." Its largest counterparty was said to have been Hydra Market, a dark web marketplace for illicit activities. Hydra was shuttered by U.S. and German law enforcement in April 2022.

Assistant Director in Charge Michael J. Driscoll of the FBI New York Field Office said the arrest of Legkodymov should serve as an example for others as he will now face the consequences of his actions in the US criminal justice system.

The DOJ alleges that although Bitzlato claimed not to accept users from the United States, it did substantial business with U.S.-based customers, and its customer service representatives repeatedly advised users that they could transfer funds from U.S. financial institutions.

Legkodymov, who apparently operated Bitzlato from Miami in 2022 and 2023, received reports reflecting traffic to Bitzlato from U.S.-based Internet Protocol addresses, including over 250 million such visits in July 2022.

The DOJ shares that French authorities, working with Europol and partners in Spain, Portugal, and Cyprus, dismantled Bitzlato's digital infrastructure, seized Bitzlato's cryptocurrency and took other enforcement actions.

FinCEN has announced an Order pursuant to section 9714(a) of the Combating Russian Money Laundering Act, identifying Bitzlato as a "primary money laundering concern" in connection to Russian illicit finance.

The complaint is available here.

Sponsored