Both public and private markets have been hammered. If you are an optimist, everything is on sale. For larger Fintechs, typically publicly traded, this may create an opportunity to scoop up competitors or complementary technologies on the cheap.
A report by S&P Analysis says that Fintech mergers and acquisitions slowed during 2022, with 371 M&As announced during the year versus 512 in 2021. But 2023 is a new year and the pain of 2022 could be replaced by an improving market over time. S&P believes that several themes are supporting more M&A activity in the Fintech world:
Sellers could be more receptive: With economic uncertainty persisting, targets in recent deals are locking in the market premium offered by the buyer instead of waiting for a rebound of stock prices. This sentiment among sellers has the potential to pick up in 2023, and there is no shortage of smaller publicly traded Fintech companies — particularly in the payments sector — that private equity firms or larger corporate players can covet, according to equity analysts.
In some of the recent large Fintech deals, targets accepted valuations far below 2021 trading levels even if they received market premiums when selling. For instance, Vista Equity Partners announced in January its pending $2.6 billion deal for insurance software provider Duck Creek Technologies Inc., a target that agreed to sell at $19 per share. It was lower than Duck Creek's IPO price in 2020 of $27 per share, and in 2021, Duck Creek completed a follow-on offering at $46 per share..
Macro factors stabilizing: Greater market stability in 2023 would also help get deals over the finish line. Two of the deals previously on the list of the largest deals since 2021 were terminated due to such factors as regulatory scrutiny or an alteration of the parties' strategies. In September 2022, UBS Group AG and Robo-advisor Wealthfront Corp. terminated their deal agreement, reportedly due to pushback from shareholders and regulators. In November 2022, State Street Corp. and Brown Brothers Harriman & Co. ended the agreement for State Street to acquire Brown Brothers Harriman & Co.'s investor services business, citing regulatory hurdles.
CI has already heard from private market insiders that report big money is looking to purchase equity on the cheap as there is a boatload of dry powder waiting on the sideline and it is tough to call a bottom, but observers believe we are getting close.
If you are a Fintech that is not profitable yet and have a limited runway – the writing is probably on the wall. We would not be surprised if some big deals are announced in the next 12 months. As one door closes, another opens.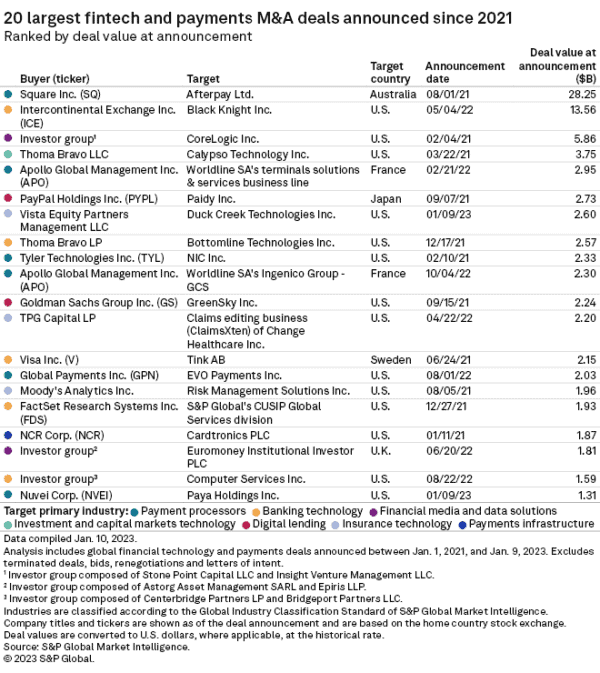 Sponsored