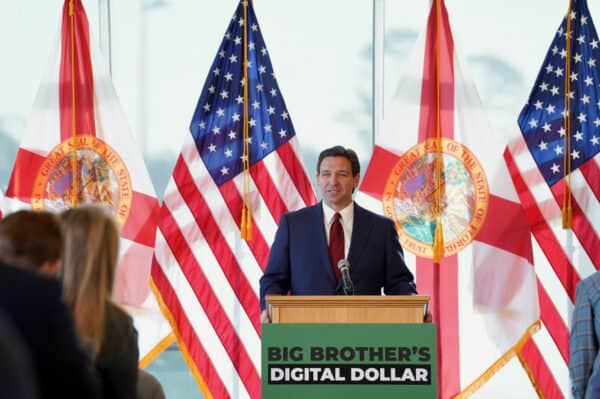 Florida Governor Ron DeSantis, widely expected to enter the presidential race in the coming months, is aiming to put a stop to central bank digital currency (CBDC) being utilized in his state, and all of the United States for that matter.
"Central Bank Digital Currency is a huge part, but it's only one part, of an overall movement to use the levers of economic power to control and to impose an agenda.

Mind you, an agenda that would not be able to win at the ballot box."

– @GovRonDeSantis pic.twitter.com/KESygpLgwB

— Jeremy Redfern (@JeremyRedfernFL) March 21, 2023
Big Brother's Digital Dollar
In a briefing yesterday, Governor DeSantis said a digital dollar is part of a push to gain more control over society.  DeSantis expressed his opinion that if a CBDC were brought to a vote, it would not garner sufficient support and lose.
The statement was part of  proposed legislation designed to push back on "the Biden administration's weaponization of the financial sector." This includes the Biden Administration's push into ESG issues.
According to the Governor's office, the legislation would:
Expressly prohibiting the use of a federally adopted CBDC as money within Florida's Uniform Commercial Code (UCC).

Instituting protections against a central global currency by prohibiting any CBDC issued by a foreign reserve or foreign-sanctioned central bank.

Calling on like-minded states to join Florida in adopting similar prohibitions within their respective Commercial Codes to fight back against this concept nationwide.
"Today's announcement will protect Florida consumers and businesses from the reckless adoption of a 'centralized digital dollar' which will stifle innovation and promote government-sanctioned surveillance. Florida will not side with economic central planners; we will not adopt policies that threaten personal economic freedom and security," stated the Governor.
While the Biden Administration has not announced its intent to create a digital dollar but the federal government is investigating the benefits and shortcomings of a CDBC. This is similar to what many central banks are currently doing. The US Federal Reserve has partnered with MIT on the project.

At the same time, privately issued stablecoins are looking to provide a non-government-operated digital currency. Most prominently is Circle and its USDC, pegged to the US dollar.

What Circle and other stablecoin issuers are missing is bespoke regulation to provide a clear path for general acceptance.

Some policymakers believe a digital dollar will buttress the dominance of the dollar globally while providing consumer benefits – such as no-cost transfers.

At the same time, Governor DeSantis expresses a real concern that federal authorities will abuse the technology for ulterior motives. This has happened before and will happen again. So why provide another tool in the observation arsenal?

Meanwhile, China is testing a digital yuan or e-renminbi (e-CNY), live and in the wild. And do not expect any protests in China. Long live the physical dollar.

Sponsored