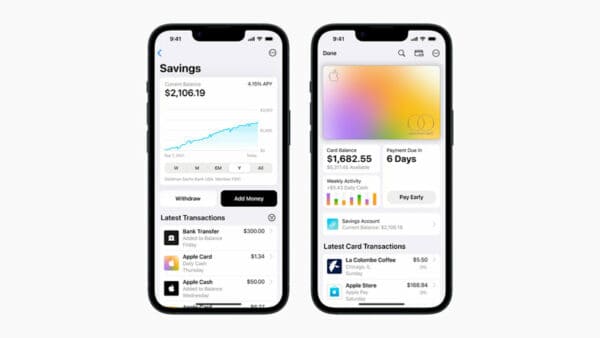 As was anticipated last week, Apple (NASDAQ:AAPL) has revealed its savings option paying users an APY of 4.15%, thus creating a compelling option for its customers to hold cash with the neobank/tech firm.
According to Apple, Apple Card users will have the option to have a savings account powered by Goldman Sachs. There are no minimums and no fees, and it is hosted on an iPhone's digital wallet.
The Apple Savings option boasts a rate of return that is "more than 10 times the national average." While interest rates have been rising rapidly, many banks have not passed on the benefits for savers.  For example, Chase currently pays a measly 0.1%, and Bank of America the same. While some digital banks and other institutions offer competitive options, Apple is now competing with some of the best savings options.
Jennifer Bailey, Apple's Vice President of Apple Pay and Apple Wallet, said the new feature will provide an easy way for Daily Cash holders to save more money.
"Our goal is to build tools that help users lead healthier financial lives, and building Savings into Apple Card in Wallet enables them to spend, send, and save Daily Cash directly and seamlessly — all from one place."
Apple explains that once a savings account is set up, all future Daily Cash earned by the user will be automatically deposited into the account. The Daily Cash destination can also be changed at any time, and there's no limit on how much Daily Cash users can earn. Users may also move money from low paying accounts to generate a higher return on parked cash. Funds may be withdrawn at any time.

Apple has been inching forward into the Fintech space for many years – most recently with its BNPL product or Apple Pay Later. The strategy makes a ton of sense and it should pay off in the future. You may expect more financial services over time as customers want a single location to manage their financial existence. As people tend to trust and love Apple, if old finance has not been on notice – they should be now as there is a new player competing for their customers.

Sponsored