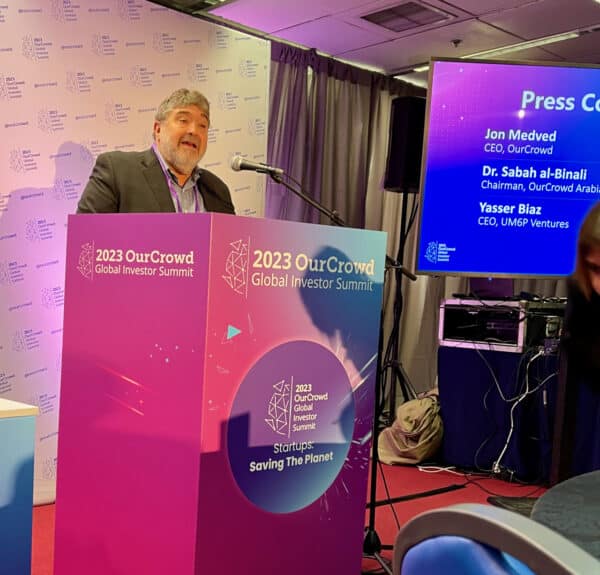 OurCrowd CEO Jon Medved spoke with the BBC to share his thoughts on the war in Israel and its impact on his business as well as his aspirations to expand upon the successful Abraham Accords.
In 2020, a breakthrough was made in normalizing diplomatic and economic relationships in the Middle East as Bahrain and the UAE established official relations which immediately saw economic activity between the two sides increase – including OurCrowd's establishment of partnerships with leaders in the region.
Medved told the BBC that the war was having a significant impact but added that it was not in the way you would anticipate. He said one portfolio company Cyabra, is being utilized to uncover fake news, and it had already revealed over 100,000 Iranian bots that have been spreading disinformation. Another portfolio company called MPrest provides all of the software for the Iron Dome.
Speaking about the Abraham Accords, Medved said they have been a game changer, bringing down the "sand curtain" drawing a parallel to the old iron curtain days of the cold war. He said there may be temporary setbacks in the normalization process with the Arab world, there is no stopping the process. Medved mentioned their ongoing activity with the Moroccans, Bahrainis, and Emiratis. "We are very hopeful this circle will soon expand to include Saudi Arabia," said Medved, adding there is tremendous opportunity to cooperate with the Saudis. Medved has traveled to Saudi prior to the war to speak with about possible bilateral partnerships.
"It's about building relationships and finding common ground," Medved said he does not see permanent damage to the relationship due to the current conflict.
"I am very optimistic we will resume the discussions with the Saudis," Medved added as he sought to dismiss concerns of permanent damage to the relationship.
During the prior OurCrowd Summit held in Israel, there were multiple representatives from Arab countries participating in the event.
You may watch the discussion with the BBC below.
---