Since digital banking platform blackbanx.co launched in late 2015, it gained massive traction in the world of crypto and offshore banking. No wonder Black Banx seams to be the fastest growing FinTech getting over eight million customers opening accounts in less than four years.
Understanding the issue most businesses have when operating in the field of crypto and trying to find a bank account, makes you wonder why there are not any other Banks wanting to deal with these type of clients. However, the reality is most Banks would not want to be near any business that has the slightest association with cryptocurrencies.
This is where Black Banx comes in. Founded by Michael Gastauer, a German Entrepreneur with a twenty years background in high street banking, who also understands the benefits and potential of a blockchain based financial system, created Black Banx, an online-based solution offering instant account openings for private and business clients from 180 countries. To open a business account you can be in any industry as long as it is legal including dealing with cryptocurrencies.
When asked why he called his Bank Black Banx, Michael jokingly said, "because we are focused to provide Bank accounts to those clients that are usually blacklisted from other Banks". His statement may sound like a joke, but the business model of Black Banx provides a lost of flexibility to those type of clients that usually have a hard time getting past the rigorous compliance checks of any major Bank.
To set up an account and get into a fully functional mode where you can send and receive international wire transfers in 28 FIAT currencies, takes less than 15 minutes, even if the entity you are using to set up the account is an offshore shell company. Comparing this to a regular Bank where account opening for an offshore company (if accepted) can take several months, the Black Banx digital process is record-breaking fast.
As soon as you have your account, the Black Banx system gives you the option to either fund it by receiving regular wire transfers or to simply send cryptocurrency and convert it into any of the 28 FIAT currency options. Moving forward you can send international Bank wire transfers or get a Black Banx Visa Card to pay in stores or use the ATM.
If you did an ICO and where wondering where to unload your ETH or BTC or simply to get cash into your bank account to pay your bills, Black Banx is the solution.
The growth and technology underlying the Black Banx system got the company highly awarded. It is what sets Visionary Entrepreneurs apart from others; the ability to find a solution for a problem that others don`t see and to focus on moving an entire industry beyond the status quo.
Black Banx is solving a global problem in the banking industry. A problem that is two-fold and gets bigger every day. Traditional Banks are less and less willing to provide accounts for businesses or private individuals from certain industries or other countries. Sending large amounts of money cross border is getting more and under scrutiny and most Banks are making it difficult for their clients to send wires to "exotic" countries. With ongoing Globalisation and use of Internet and SmartPhones, the world has gotten more connected than ever before. Black Banx is addressing the problem of a US$ 22 trillion market and solving it in a unique way.
Based on its proprietary software "GlobalKYC", the company is able to identify customers in 180 countries in real time, and provide them with checking accounts in 28 currencies. The account opening process for a business or private individual takes minutes and is done completely remote over the internet or on a SmartPhone.
When Black Banx did a live demo on Money 20/20 in Vegas, the uber potential of this technology become obvious for the expert community from banking and finance. Where traditional banks need days or weeks to open accounts for an international customer, Black Banx needs minutes. Where traditional Banks have huge efforts and manual labor costs to identify and do background checks on their non-resident clients, Black Banx uses Server Power to run the fully automated and scalable identification process in real time.
When Black Banx combined its ability to provide checking accounts in minutes to a worldwide clientele with its offering to send unlimited wire transfers around the world faster than traditional banks, the product went viral. For customers from the Crypto Industry having difficulties to get accounts from traditional banks, Black Banx became the holy grail solving their banking issues.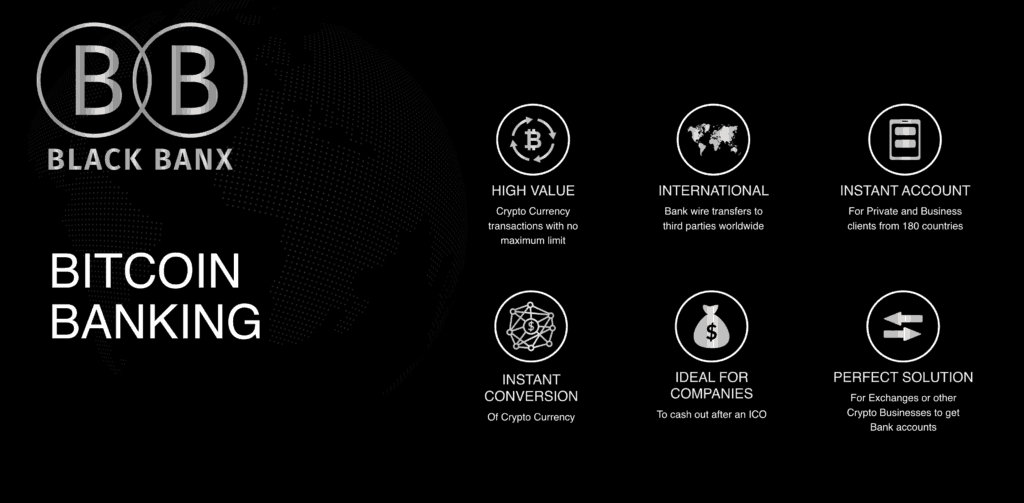 Sponsored