What is the critical path for implementing crowdfunding?
I knew that this seemingly easy passage of the jobs act was too good to be true. In a way, the ambiguity of the bill has been the inspiration for an ideal of what crowdfunding can be.
That ambiguity has also led to gridlock in figuring out the implementation of the law. The SEC's desire to put perfect in the way and minimize the chances of offending various lobbies and constituencies will likely delay the start of crowdfunding beyond the law's designated January 1, 2013 initiation date.
Ironically the one group that they don't seem to be worried about offending is the largest one – the crowd. This is the same crowd that elects the politicians that have the ability to at least exert some influence over policymakers.
This week we will be attending an SEC forum that is expressly meant to discuss crowdfunding and will hopefully give further guidance on the time-line. Please don't blame us for being a little skeptical, however each time there has been an opportunity for the SEC to disclose specifics about the process, I have been left with more questions.
If you have found us here at Crowdfundinsider, chances are you may be part of a small group of individuals that have the greatest immediate interest in this topic. Today the most passionate members of this community are entrepreneurs who wish to operate crowdfunding portals –  followed by the lawyers, accountants and other professionals that will seek to service those portals and the people that frequent them. I've met some end users that have a vision for the potential.  However the number of these business owners and investors is a fraction of the total number of entities that should have much more than a passing interest in the implementation of crowdfunding.
So how do we trigger the pressure points that I mention above?  It is a numbers game.  It is time to stop preaching to the choir of other like minded crowdfunding activists and find five businesses that you think could be crowdfunding issuers and 10 individuals that could be crowdfunding investors. Educate them on why crowdfunding should be important to them.  Let both groups know that many fantastic opportunities for economic growth will be lost if the SEC is not forced to adhere to a deadline.
The stories that we have written and curated since our inception chronicle the development of this burgeoning form of economic development. But I cannot help but feel that the progress of the crowdfunding movement has plateaued somewhat and that this community is relegated to recycling and reinterpreting a limited number of facts.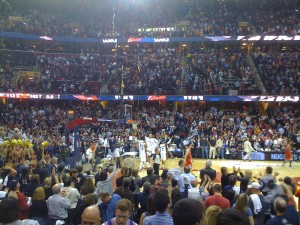 Let's get that thousand of us that care about crowdfunding to create interest within the 1 million businesses and the 10 million investors that collectively will get Washington's attention.  The business model of every portal relies on assembling the crowd – I cannot think of a better place to start.