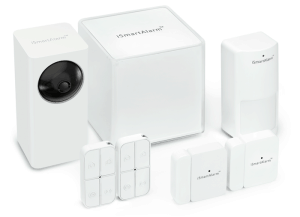 Last week I sat down with Zac Sutton, the marketing manager for iSmartAlarm. We've covered their product recently in our "cool tech products crowdfunding now" post…
For those of you tired of spending the monthly toll for a security system which is only used occasionally to wake up your neighbors this may be the answer.  With iSmart Alarm you buy the system and you take the calls.  No need to wait for the polite lady to call you with your code (which you have forgotten of course).  You take the call or the text.  Teen age son or daughter likes to extend curfew by sneaking out at night?  Bingo!  Photographic evidence!
The product space in crowdfunding is extremely competitive and sometimes it is hard to cut through the noise, but the iSmartAlarm team seems to be doing a nice job. I wanted to know more about why they entered the space and how they're marketing their campaign…
Crowdfund Insider: Where did the idea for the iSmartAlarm come from and what made you decide to enter the home security space?
The idea for the iSmartAlarm originally came from when Steve Jobs's house was broken into, it was under construction. Obviously his wife wasn't living there at the time, and when his house was broken into all of the alarms were off. The individual that broke in was able to locate a key that was left there for the construction crew and get in and take something like $60,000 worth of personal belongings. That's kind of the catalyst for the iSmartAlarm… looking at ways to monitor and manage the home security space from a personal level rather than with a monitoring center, taking advantage of the interconnectivity of everything that's going on nowadays, and give people the choice of how much or how little they want to monitor their home when they're away.
CFI: Tell me a bit about Raymond. He takes a pretty prominent spot in your Indiegogo video. What is his background?
His background comes from the high technology side, working with a number of companies here in Silicon Valley, and he comes to the table with a very good working relationship with some sister companies that have experience and have been established in terms of iOS and Android usage… everything from apps to child monitoring with cameras and audio and things like that.
CFI: Who's idea was it to crowdfund the launch for this product?
That's predominantly coming from Raymond. That was kind of on the game plan before I came on board to take care of the marketing. At that point it was kind of my responsibility to move forward with… the representation, video aspects, scripting… all of that fun stuff.
CFI: You ended up going with Indiegogo, and specifically you're using their flexibile funding campaign. Can you speak to what the decision making process was in which platform to choose, and when you did decide on Indiegogo why did you go with the flexible funding campaign versus a traditional crowdfunding campaign?
We ended up going with Indiegogo over… I mean, it's really kind of Indiegogo or Kickstarter… we ended up going w Indiegogo because we liked the programmer/developer space that we saw there. We consulted with a lot of individuals that we know personally here that had run campaigns and had also been contributors to campaigns, and we liked Indiegogo's approach to the develoepr side. Because our system is really open source with an API and an SDK available, even as one of the perks for developers, we really wanted to focus on that side of things. Going with flexible funding was kind of a no-brainer for us because nothing in the campaign is going to hold up whether or not we hit our shipping goals. The financial aspect of the crowdfunding/crowdsourcing movement is kind of secondary to getting out there in front of the people that are technologically savvy, getting in front of the individuals that are interested in these types of projects and getting involved in these types of projects at… maybe not ground zero, but ground one or two.
CFI: Zac, you're running marketing on this… do you have any tips or tricks or anything out of the ordinary that you've done in marketing this campaign that's worked really well? Anything that you want to share with other people that are looking to crowdfund their ideas?
Well, so far for us what's been really successful is taking a very personal approach, not being too corporate or regimented in terms of our communication and in terms of the way we approach individuals. We want to be known and we want to be seen as a company that's really focused on goals and getting it in front of people ASAP, but at the same time we're individuals and we want to communicate with people as such. We don't have a corporate line that were towingg in any sense. Where our programming is open source, our approach is very open source, too. We're very flexible and change on a daily basis even. A lot of what we're able to get being at Pepcom was on-the-fly analysis and questions and things like that, and implementing those as soon as we got them… everything from the FAQs to sending updates to followers, sending updates to social media channels and making sure we respond to each and every person that either comments publicly or reaches out to us privately is super important to us.
CFI: …Pepcom? What's a Pepcom?
Pepcom was a show the day before CES started that was in the evening and focused on new product launches and new things in the digital space, so that was kind of when we first made public what we were doing, and then the next day we launched the Indiegogo campaign.
 We want to be known and we want to be seen as a company that's really focused on goals and getting it in front of people ASAP, but at the same time we're individuals and we want to communicate with people as such. We don't have a corporate line that were towingg in any sense. Where our programming is open source, our approach is very open source, too.
CFI: Oh, that is interesting… so you got some human feedback at that event and that helped shape your approach to how you formatted your campaign in a way that made people feel comfortable with your offering?
Exactly, and we got the opportunity to hit the ground running with our Indiegogo campaign because we talked and were featured on Techcrunch and CNET and Engadget because they had people there kind of going booth to booth, really looking at what was interesting, exciting and brand new.
CFI: Can you tell me a bit about why you think the home security space is ripe for disruption? What hole is your product filling in the industry?
I think from a home security standpoint everything that you've really seen up until this point, or let's say the latter portion of this last calendar year, has been an ongoing solution. It's been either XFINITY, ADT, Honeywell, Rogers… it's been those types of companies that say "This is what you're paying, this is what you get, this is what you need to do in order to install it… whether it's hard-wired, whether its professionally installed, whatever it is… and this is how much you're paying monthly in order to keep the system up and running. If you stop paying, you spent that money to install, you got your house hard-wired, you put this stuff up and it doesn't work anymore."
Our approach is much more personal in the sense that the individual is able to buy what they need for one cost. There's no monthly fee, there's no ongoing contracts, there's no data plans, anything like that… they're able to install it however and wherever they want. It takes a few minutes to set it up. It's also super flexible and mobile, so if an individual like a college student, someone who rents, those types of things… if they end up moving tomorrow it's really easy for them to be able to take it with them and set it back up. The only portion of the iSmartAlarm that actually plugs in is a cube (which is the cpu, the brains of everything) that plugs into the router and it plugs into the wall. Everything else is battery operated and wireless and communicates with the cube through wifi. So if I'm a college student, if I'm someone that doesn't necessarily plan on being in the same location for the duration of a long term contract, I'm able to monitor and manage the security of my home in a lot of the same ways that those people that are paying hundreds of dollars per install… plus the equipment, plus the monthly fees… I'm able to manage my home in much the same way.
CFI: What is the hope for the product long term? Do you hope to see this in a retail setting sometime soon?
From a long term perspective, in terms of distribution we're looking at Q3/beginning of Q4 for European shipping. Right now we're focusing on the US and Canada and then expanding from there.
CFI: Do you have any expectation or ideas about what that open API is going to mean? Are there uses for the product outside of just plain old home security that you guys have seen people start to work on or take advantage of?
I think with the approach that we're taking from the home security side, everything in here is expandable and with that API and the SDK we want to be able to implement more and more home automation aspects… pet trackers to home thermostat control to being able to turn on and off the lights, controlling the sprinklers… those different pieces of home automation that are becoming more and more important, we're going to be able to utilize the hardware and software that the iSmartAlarm has to expand into that space.
We just want to start with one particular product and do it really, really well. We didn't want to get into home automation and do a lot of things ok. We wanted to start with one thing and do it really awesome. The home security side. With that open source and developer community, thats exactly what we're looking for… being able to get into home automation faster. Also, being able to utilize preexisting systems to integrate with the iSmartAlarm. We have a really simple, straightforward and beautiful app to be able to use for monitoring the home and if we can use developers to create integration between the iSmartAlarm and, say, a preexisting camera system that a house has hard wired in when purchased, or being able to integrate and communicate with a Nest, those types of things… thats exactly where that open source approach is going to benefit people.
Have a crowdfunding offering you'd like to share? Submit an offering for consideration using our Submit a Tip form and we may share it on our site!