Update:  The Crowdfunded Film Inocente won the Oscar for Best Documentary Short.  Congratulations!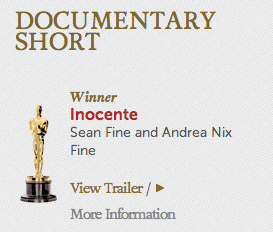 Love or hate the annual Oscars, the Academy Awards has become a seminal event for the film industry.  Anticipated almost as much for the antics and theatre that surrounds the event as the actual award recipients themselves, the Oscars has become a part of movie going culture both wide and far. Kickstarter has crowdfunded over $90 Million to date in the film & video category alone.   This year crowdfunding is playing a role in three nominees for various awards.  The three nominees, having crowdfunded on Kickstarter are as follows:
Kings Point – Nominee for Best Documentary Short
Buzkashi Boys – Nominee for Best Short Film Live Action
Inocente – Nominee for Best Documentary Short
Crowdfunding and the impact on the film industry will continue to grow.  Whether on Kickstarter, Seed&Spark or another site crowdfunding for films – the industry is better for the value added by these platforms.
Enjoy Seth MacFarlane on television or watch the "Thank You Cam" on the Oscars App.  But be certain to root for these  great films.
Kings Point
Kings Point  was crowdfunded in the amount of $10,165 with a goal of $10,000. They received funding from 111 backers.  Funded in 2011.
Kings Point is a documentary film that profiles six residents who have lived, for over 20 years, in a retirement community that has over 15,000 people in it. The stories of these long-time residents, in what is essentially a small age-segregated city (you have to be over 55 to live there), highlight the struggles of aging in a community comprised entirely of your peers, virtually cut off from children and grandchildren, who often live thousands of miles away. Kings Point will offer a moving and often humorous look at this uniquely American phenomenon, exposing the often grim reality that lies beneath the sunny promise of an "active retirement lifestyle."
Buzkashi Boys
Buskashi Boys was crowdfunded in the amount of $27,410 with a goal of $25,000. They received funding from 153 backers. Funded in 2012.
Filmed on location in Afganhistan,
Buzkashi Boys is a unique narrative short film shot entirely on location in Afghanistan, offering a rare glimpse at another side of this war-torn country.
Set against the backdrop of buzkashi, a brutal game of horse polo played with a dead goat instead of a ball, the film follows two best friends, a street urchin and a blacksmith's son, who struggle to reconcile dreams with duty as they make their way to manhood.
Inocente
Inocente was crowd funded in the amount of $52,527 with a goal of $50,000. They received funding from 294 backers.  Funded in 2012.

Inocente is an intensely personal and vibrant coming of age documentary about a young artist's fierce determination to never surrender to the bleakness of her surroundings. Hers is not just a story of survival, but of resilience.
At 15, Inocente refuses to let her dream of becoming an artist be caged by her life as an undocumented immigrant forced to live homeless for the last nine years.


Have a crowdfunding offering you'd like to share? Submit an offering for consideration using our Submit a Tip form and we may share it on our site!

Sponsored Links by DQ Promote