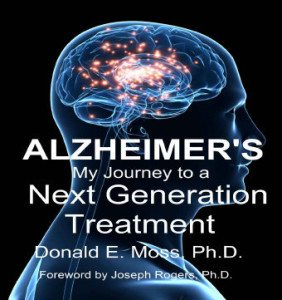 Donald Moss has worked on solving the mystery of treating the disease of Alzheirmer's for more than 30 years.  He received a patent for his treatment in 1998 but has been unable to find a sponsor, such as a large Pharmaceutical company, to help pay for the costly clinical trials which pave the way for FDA approval.  With only a couple years left on the original patent  Moss has decided to take a different tack in funding his goal:  Crowdfunding.
Partnering with friend Jim Summerton, Moss has set a high target for raising funds.  They hope to raise $30 Million to complete their task.  While they will submit for grants for a portion of the funds they hope to raise a substantial amount from crowdfunding. Coming from the pages of the Albany Democrat-Herald.
(They) plan to apply for grants from the Alzheimer's Association, the National Institute on Aging and other institutional sources. But to a large extent they're pinning their hopes on a novel approach: crowd funding.

They're adding a "contribute" button to their website, where they invite the public to provide financial support for their testing and development work.

Crowd funding is a recent phenomenon that has had some success in certain fields, including business startups, but usually on a fairly small scale, said Don Neubaum, associate dean of the College of Business at Oregon State University.

For instance, a new watch company called Pebble has raised $10 million on one of the leading crowd funding sites, Kickstarter. But most ventures raise $10,000 or less.

"Raising $30 million, that's real money," Neubaum said.
Moss estimates they have a 50-50 chance of success.
To avoid running afoul of securities law, they're careful to frame their request for funds as a donation rather than an investment. If their venture is successful, supporters will be repaid without interest, and they're not offering equity in the company.

But with millions of Americans impacted by Alzheimer's disease, the partners reason, there should be widespread interest in supporting their work. If a large number of people give, even modest contributions will add up to enough money to keep the project moving forward.

"If we can get to $30 million to start the testing, we can attract the rest of the investment," Moss predicted.

"I think we have a 50-50 chance of doing it."
As of today their platform is not yet live and it is not clear if Brain-Tools.com will use one of the white label crowdfunding platforms to power their campaign.

Have a crowdfunding offering you'd like to share? Submit an offering for consideration using our Submit a Tip form and we may share it on our site!

Sponsored Links by DQ Promote