As everyone knows the Superbowl is not just about the game.  It is the spectacle, the culture, the extravagance and yep – the ads.  Many large companies – or companies that hope to be large some day – spend gobs of money on 30 – 60 second clips to be delivered to the tens of millions of viewers glued to the tube for this seminal event.
The ad above is from Samsung promoting their Galaxy phones.  Staring Seth Rogen and Paul Rudd pitching their hot ideas.  Of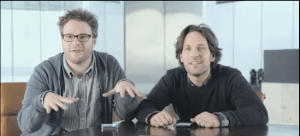 course one of their ideas is to use Crowdsourcing.  So perhaps this means crowdsourcing AND crowdfunding are now  – or soon will be – mainstream?  I don't know.  Seth and Paul lose out to Lebron James (no surprise).  Great pitch anyhow.
Watch it above or just wait for the game tonight and view it along with the other 150 Million spectators.